These Chocolate Chip Scones are wonderfully tender, lightly sweetened and perfect alongside a cup of coffee for breakfast or dessert.
Cuisine : Baking Course : Dessert Skill Level : Novice
Prep : 15 mins Cook : 20 mins Ready in : 35 mins Serves : 6

---
INGREDIENTS:
210g All Purpose Flour
8g Baking Powder
2g Baking Soda
4g Salt
100g Unsalted Butter (cold)
190g Liquid Cream
80g Dark Chocolate Chips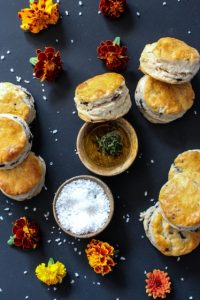 DIRECTIONS:
Pre heat the oven to 200°C.
In a large bowl, combine the flour, baking powder, baking soda and salt to incorporate.
Scatter the cold butter over the mixture and rubbed in until mixture turns crumbly.
Add chocolate chips.
Add the cream and mix with a fork to resemble a rough dough.DO NOT OVER MIX!
Roll the dough gently to about 2.5 cm in height.
Cut using a stainless steel cutter.
Brush the top of scones with beaten eggs and sprinkle with coarse sugar.
Bake the scones for approximately 15-20 mins till golden brown.
Serve Warm.