Taste the rustic flavour of broccoli with this flavourful Broccoli Soup with Extra Virgin Oil recipe shared by Chef Alexandre Lozachmeur from Fleur De Sel!
Cuisine : European Course : Appetizer Skill Level : Novice
Prep : 60 mins Cook : 20 mins Ready in : 80 mins Serves : 6

---
INGREDIENTS:
½ pc Broccoli
50g Olive Oil basic
1pc Banana Shallot
20g Extra Virgin Olive Oil
Salt
10g Croutons
10g Kalamata Olives
10g Dried Tomatoes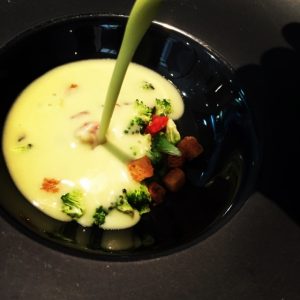 DIRECTIONS:
Chop the shallots in slices and the broccoli separately into chunks.
Warm up the shallots and the cooking /olive oil together in a high heat, then add the broccoli, sautéed without any coloration and add some salt to season. Cover with water, bring it to boil and cook for approximately 8 minutes until the broccolis is very soft.
In a blender, throw in all the above with the extra virgin olive oil, blend for 4 minutes then keep it warm ready to serve.
Season with more oil, salt, pepper depending on your taste.
Chop the olives and dried tomatoes, mix it with the croutons and place it on a soup plate, served with the soup hot.