This light and fluffy Ogura Zebra Chiffon Cake is as delicious as it looks! A basic chiffon cake recipe now tastes better with swirled decadent chocolate paste.
Cuisine : Baking Course : Dessert  Skill Level : Novice
Prep : 15 mins Cook : 55 mins Ready in : 1 hr 10 mins  Serves : 1 Chiffon Cake
---
INGREDIENTS             
Group 1

100g Egg Yolk
1 Egg
50g Oil
60g Fresh Milk
A pinch of Salt
70g Cake Flour

Group 2

250g Egg White
80g Fine Sugar
1 tsp Lemon Juice

Chocolate Paste Mixture

1 tbsp Cocoa Powder
1 tbsp Chocolate Milk/ Milk
½ tsp Chocolate Paste/ Emulco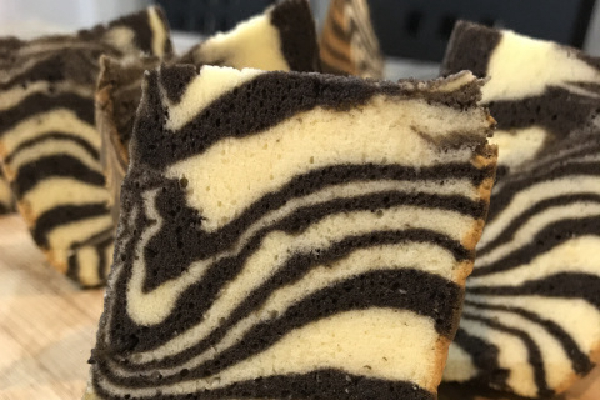 DIRECTIONS       
Whisk eggs, oil, milk for 3mins.
Add in sifted flour and mixed till well-combined. Put aside.
Whisk egg white with fine sugar till medium peak.
Fold a big scoop of the meringue to the egg yolk batter and mix well.
Pour the batter back to the meringue bowl and fold gradually till just combined.
Divide the mixture into 2 portions. Stir in the Cocoa paste mixture into 1 portion.
Pour mixture into the centre of the tin alternately (see demo).
Bake at 170C for 15mins then lower to 150c bake for 4omins or till cooked.