Impress your guests with a flavourful and colourful twist to the Yu Sheng. Throw in the prosperous "旺来" (pineapple), and aupiscious "大吉大利" (oranges) for a refreshing mouthful!
Cuisine : Asian  Course : Appetizer Skill Level : Enthusiast
Prep : 30 mins Cook : 0 mins Ready in : 30 mins Serves : 8

---
INGREDIENTS:
Chinese-Thai Dressing
70g Coriander Root (chopped)
30g Gula Melaka (grated)
4 tbsp Knife Thai Fish Sauce
2 tbsp Knife Salted Soy Bean
2 tsp Chilli Padi (chopped)
2 tbsp Baby Shrimp (toasted)
1 tbsp White Vinegar
1 tbsp Knife Sesame Oil
3 tbsp Freshly Squeezed Lime Juice
Garnishing
180g White Radish (thinly sliced)
180g Carrot (thinly sliced)
80g Mandarin Orange (peeled and wedged)
80g Rose Apple Wedges (presoaked in salt water)
80g Pomelo Wedges
80g Canned Lychees
80g UFC Canned Logans
80g Canned Pineapples
80g Candied Winter Melon
80g Black Dates
20g Candied Ginger
80g Prawn Crackers
80g Sesame Seed (toasted)
40g Coriander Leaves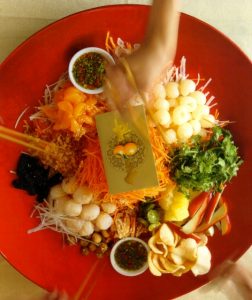 DIRECTIONS:
Combine well all the dressing ingredients and set aside.
Place the garnishing onto the big platter neatly as shown with the fruit on the outer layer, one after the other.
Place the dressing in a small bowl, set it on the platter as shown.
Finally, just before serving, pour the dressing over and toss well.