A definite crowd pleaser, this baked brie pastry is rich in flavour with a smooth creamy texture. Don't be afraid to be a little creative with the shape of the brie or use left over dough to add designs like ribbons.
Cuisine : European Course : Appetizer Skill Level : Novice
Prep : 40 mins Cook : 10 mins Ready in : 50 mins Serves : 4

---
INGREDIENTS:
200g Frozen Morello Cherries (can substitute with strawberry, cranberry, or raspberry)
150g Sugar
½ Vanilla Pod
Brie Rolls
8 sheets of 12x24cm Filo Pastry
100g Unsalted Président Butter (melted)
200g Président Brie Cheese (cut into chunks)
4 tbsp Chopped Wild Rocket or Baby Spinach
Freshly Ground Black Peppercorns (to taste)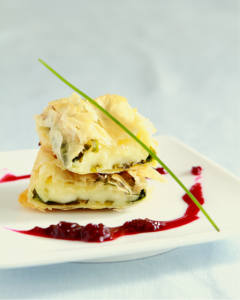 DIRECTIONS:
        Jam
Combine the cherries and sugar in a saucepan.

Scrape in the vanilla seeds and add the pod.

Cook over medium heat until 104°C, or until mixture reaches coating consistency.

Set aside to cool and store in a jar in the refrigerator until needed

Brie Rolls

Preheat the oven at 200°C.

Brush 1 sheet of filo pastry with melted butter. Place another sheet on top and brush with butter again. Repeat the operation until you get 4 layers. Cut the pastry into 2 squares. Repeat with remaining pastry.

Divide brie into 4 portions and place a portion in the centre of each filo square. Top with 1 tablespoon of chopped salad and season with pepper.

Fold the sheet like a spring roll and place on a non-stick baking tray.

Brush rolls with melted butter.

Bake for about 10 minutes or until golden brown.
To Serve
Serve warm with morello cherry jam, or as an amuse bouche, a starter with salad, or the cheese course at the end of a meal.