Looking for a delicious lamb recipe that is flavourful and tender?  Try this Grilled Lamb Rack recipe by Chef Anil which is perfect for any occasion!
Cuisine : European Course : Main Skill Level : Novice
Prep : 15 mins Cook : 10 mins Ready in : 25 mins Serves : 1

---
INGREDIENTS:
2pcs Lamb Rack
2tsp Cumin Powder
1tsp Ground Cayenne Pepper
Required Amount Black Pepper
1tsp Lemon Juice
Required Amount Sea Salt
1/2tsp Chicken Powder
2tsp Olive Oil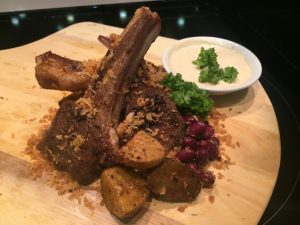 DIRECTIONS:
In a bowl, add cumin powder, cayenne powder, black pepper, lemon juice, chicken powder, sea salt and olive oil and mix it.
Place the lamb in the bowl and mix it together with the marinated spices.
Sear the marinated lamb on a searing pan until golden brown and dap tissue on the seared lamb to get rid of excessive oil.