Indulge yourself in Chef Thripti Hinduja moist and delicious chocolate cake recipe!
Cuisine : Baking Course : Dessert Skill Level : Novice
Prep : 15 mins Cook : 20 mins Ready in : 35 mins Serves : 6-8

---
INGREDIENTS:
40g Cocoa powder
95g Flour
140g Sugar
1/2 tsp Baking Soda
1/4 tsp Baking Powder
1/4 tsp Salt
1 Egg
85g Buttermilk
85g Water
2 tsp Oil
1 tsp Vanilla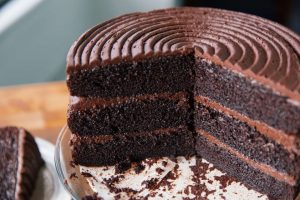 DIRECTIONS:
Preheat the oven to 180 C.
Grease and line 2 – 7″ baking tins with parchment paper.
Sift the flour, cocoa powder, baking powder and baking soda together. Then add in the sugar and stir well.
In another bowl stir the buttermilk, water, vanilla , egg and salt together.
Pour the wet ingredients into the dry ingredients and whisk until combined smoothly.
Pour the batter into the prepared baking trays and bake for 20 minutes or until a skewer inserted comes out clean.
Demould and cool to room temperature.