This creamy textured Avocado mousse with Sago and Gula Melaka is the best chilled dessert for a hot day.
Cuisine : Baking  Course : Dessert Skill Level : Novice
Prep : 10 mins Cook : 15 mins Ready in : 25 mins Serves : 2 Servings
---
INGREDIENTS:
3 tbsp Mini Size Sago Pearls
1 Riped Avocado, seeded
100ml Water
80g Gula Melaka (Palm Sugar). Melted with 6 tsps of Water
Coconut Cream or 1 Scoop of Vanilla or Coconut Flavoured Ice Cream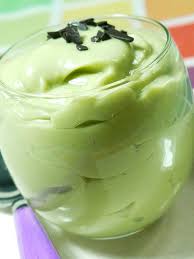 DIRECTIONS:
Fill ¾ pot of a medium size pot with water and bring to boil.
Add the sago pearls and stir randomly. Cook until the pearls are completely free of white dots and are translucent.
Drain over running water and rinse the sago. Drain off excess water and use as required.
Blend avocado with water in a juice processor. Add melted gula Melaka to taste. Mix in the sago pearls and serve the avocado puree with coconut milk or ice cream.