Lemon Thyme Marinated Lamb Rack with Finely Chopped Ratatouille & Traditional Gratin Dauphinois
by Susanne Despature

The slow oven cooking method ensures the tenderness of the lamb rack. Let the Lemon Thyme Marinated Lamb Rack tease your taste buds and serve with ratatouille in finely chopped texture and gratin dauphinois.
Cuisine : European Course : Main Skill Level : Novice
Prep : 200 mins Cook : 80 mins Ready in : 280 mins Serves : 4

---
INGREDIENTS:
Lamb Rack
1 French Lamb Rack
2 tbsp Olive Oil
Salt
Marinade
2-3 cloves of Garlic (finely chopped)
3 tbsp Olive Oil
1 tbsp Dijon Mustard
1 tbsp Lemon Thyme or Thyme (finely chopped)
½ tbsp Tomato Paste
½ tsp Cracked Pepper
Ratatouille
2 cloves of Garlic (chopped)
1 Onion (diced)
½ can of Chopped Tomatoes
2-3 tbsp Olive Oil
1 Green Zucchini
1 Small Red and Yellow Bell Pepper
1 Small Eggplant
Salt, Pepper, and Basil
Potato Gratin
5-6 Large Potatoes (peeled, finely sliced, not too starchy)
20g Butter
2-3 cloves of Garlic (finely chopped)
200ml Milk
100ml Cream
2-3 twigs of Thyme (leaves only)
50g Grated Parmesan
Salt, Pepper, and Nutmeg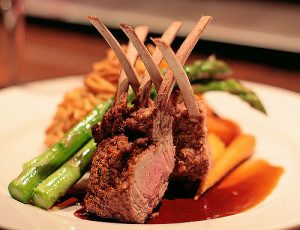 DIRECTIONS:
          For Lamb Rack
In a small bowl, combine all ingredients for marinade. Marinate lamb rack for 2-3 hours in a sealed plastic bag in fridge (or better over night). 2 hours before serving, take lamb rack out of the fridge and put at room temperature for 30 minutes.

Heat oven to 80° C, place a plate on the griddle.

Heat olive oil in frying pan until very hot. Fry lamb rack on all sides for 3-4 minutes or until golden brown, then place on hot plate in the oven. Don't cover.

Leave for about 1 hour 15mins in the oven until temperature at core is 65° C (meat will have a nice pink colour, not overcooked!)

For Ratatouille

Sweat the garlic and onion in 1 tablespoon of olive oil. Add chopped tomatoes and cook for 5 minutes.

Finely dice bell pepper, eggplant and zucchini (1×1 cm) and sauté them one by one in a little olive oil until they are just cooked.

Combine all the cooked vegetables with the tomato sauce, season with salt and pepper and the finely chopped basil leaves. Set aside.

Reheat just before serving.

To Serve

Spoon some ratatouille on each plate. Cut lamb rack in cutlets and serve 2 cutlets / person. Serve with potato gratin and some fresh rosemary.