Baked mini French toast cups are the perfect breakfast to try with the kids this school holiday. These are great for picnics, breakfast on-the-go, or to kick-start a fun day out! #QuickBites
Cuisine : European Course : Main Skill Level : Novice
Prep : 20 mins Cook : 30 mins Ready in : 50 mins  Serves : 3 large ramekins
---
INGREDIENTS             
115g Cream Cheese
4 Eggs
2/3 cup Milk
1/3 cup Orange Juice
1/4 cup Maple-flavored Pancake Syrup
1/2 tsp Freshly Grated Orange Peel
3 cups Baguette (about 4 slices – 1 inch)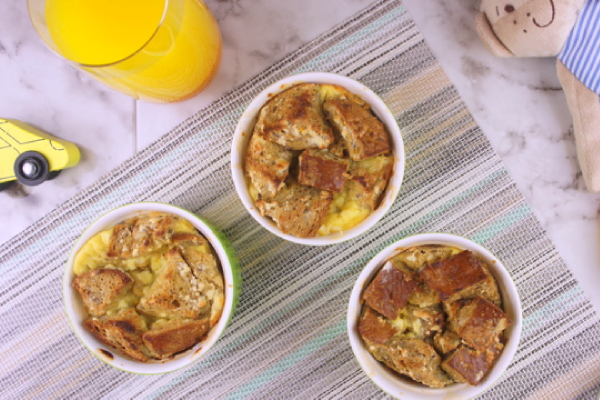 DIRECTIONS 
Heat oven to 350F. Whisk cheese in a medium bowl until smooth. Add in 1 egg at a time and whisk each addition until smooth.
Stir in milk, maple syrup, orange juice and orange zest until blended.
Divide the bread among greased ramekins. Slowly pour the mixture over the bread in each cup.
Bake the french toast at 350F for about 30 mins.