With Chef Eric's Chaozhou Spring Rolls recipe, you can make the best and crispiest spring rolls filled with minced pork, vegetables and deep-fried to perfection.
Cuisine : Asian Course : Appetizer Skill Level : Novice
Prep : 20 mins Cook : 5 mins
Ready in : 25 mins Serves : 20-25 large spring rolls
---
INGREDIENTS:
25 large Spring Roll Wrappers
2 tbsp Flour
Water as needed
Oil for deep frying.
Ingredients for the filling
500g Dried Yellow Mung Beans – washed and soaked for 6 hours or overnight
4 tbsp Oil
100g Chinese Leeks – sliced finely
70g Dried Shrimps – washed and drained
30g Dried Chinese Mushrooms – washed, soaked and diced
150g Minced Pork
3 tbsp Fish Sauce
1 tsp Five-spice Powder
1/2 tsp Ground Black Pepper
1 tbsp Sugar
Ingredients for the Garnish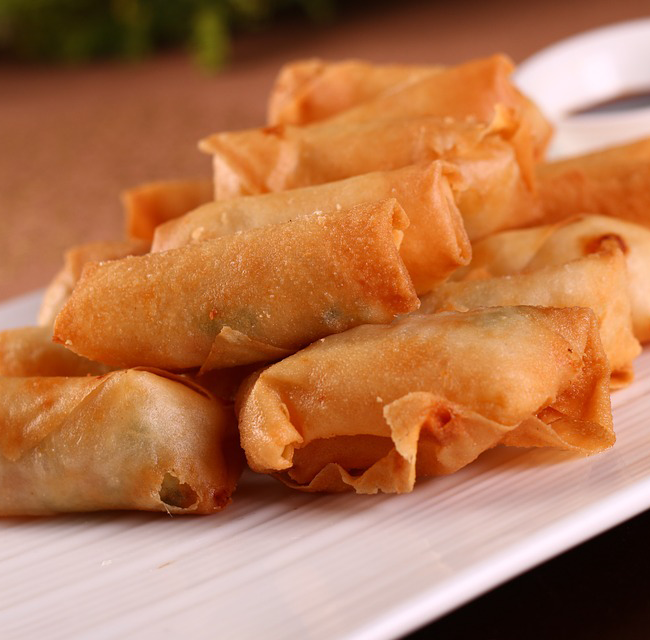 DIRECTIONS:
Prepare the filling. Steamed the soaked mung beans for 30-40 mins until softened. Check by tasting a few grains.
Heat oil in a wok and saute Chinese leeks, dried shrimps and Chinese mushrooms until fragrant.
Add in the minced pork and cook for another 2 minutes. Add in the steamed mung bean and toss evenly.
Season with fish sauce. Add five-spice powder, ground black pepper and sugar. Allow filling to cool before using it.
Place 2-3 tbsp of filling on each spring roll wrapper and fold corners inwards.
Mix flour with water to form paste.
Roll up spring roll and seal wrapper with flour paste.
Heat oil to about 160C or when gentle bubbles form with a pair of bamboo chopsticks. Deep-fry spring rolls until golden brown. Drain on paper towels.
Serve spring rolls with lettuce and kumquat sauce.