As a Durian lover, you do not want to miss out this recipe by Chef Julie! Learn to bake Durian Chiffon Cake with Fresh Durian Cream for the ultimate durian dessert!
Cuisine : Baking Course : Dessert Skill Level : Novice
Prep : 15 mins Cook : 10 mins
Ready in : 25 mins Serves : 6-8
---
INGREDIENTS:
Ingredients for Durian Chiffon Cake (Group 1A-4A)
Group 1A – Beat together
3 Egg Whites (Group 1A)
70g Fine Sugar (Group 1A)
Group 2A – Beat in
Group 3A – Sifted together
60g Hong Kong/ Top Flour(Group 3A)
1/2 tsp Baking Powder (Group 3A)
Group 4A – Mix in
40g Warm Corn Oil (Group 4A)
Ingredients for Fresh Durian Cream (Group 1B-2B)
Group 1B
10g Gelatine (Group 1B)
40g Water (Group 1B)
Group 2B
300g Durian Puree (Group 2B)
30g Icing Sugar (Group 2B)
150g Fresh Whipped Cream (Group 2B)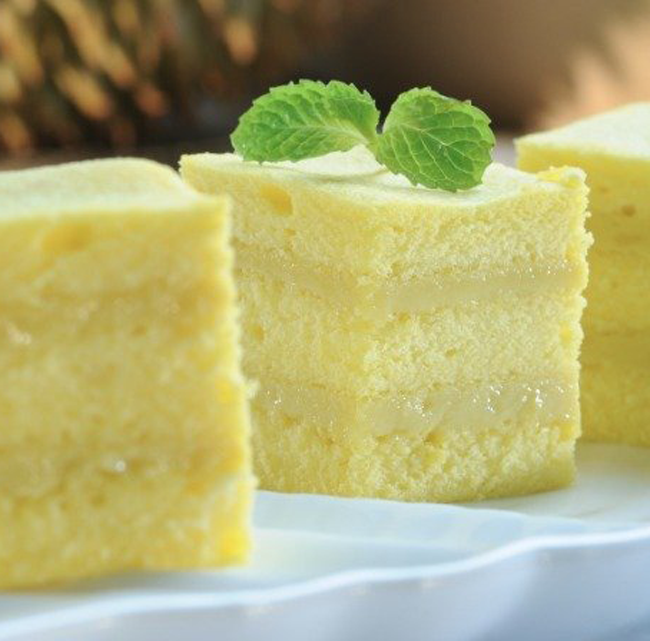 DIRECTIONS:
To make the Durian chiffon Cake, follow steps 2 to 7.
Preheat oven for 20mins at 200C.
Beat egg white and fine sugar till together till fluffy.
Add in the egg yolks and beat till think and light.
Fold in the hong kong flour and baking powder by hand or spatula and mix it evenly.
Lastly, add in the warm corn oil gently and mix well.
Pour mixture into moulds and bake at 200C for 10 mins.
To make the Fresh Durian Cream, follow steps 9 to 11.
Put the gelatin into water for 10 mins. Heat up the gelatin till dissolved.
Mix in the durian puree, icing sugar and cooled gelatin together.
Fold in the whipped cream.