This incredibly decadent, luxurious Chocolate Mousse is a perfect finish to a meal!
Cuisine : Baking Course : Dessert Skill Level : Novice
Prep : 140 mins Cook : 15 mins Ready in : 155 mins Serves : 4-6

---
INGREDIENTS:
75 g Chocolate
55 g Heavy (whipping ) cream
1 Eggs, separated
Instant coffee 1/2 tsp mixed to a paste with 3 tbsp water
1 tsp Vanilla extract
30 g Sugar
20 g Butter
1-2 tsp Rum or any liquor (optional)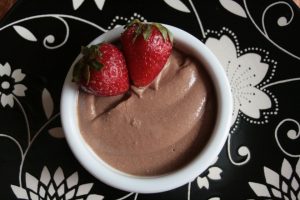 DIRECTIONS:
Melt the butter and the chocolate together.
Stir in the vanilla and the coffee mixture.
Stir in the yolks.
Whip the cream and half the sugar until soft peaks and stir it into the chocolate mixture in 2 batches.
Whisk the egg whites until soft peaks. Slowly add in the rest of the sugar and whisk until shiny and the sugar is dissolved.
Fold it into the chocolate mixture in 2 batches.
Spoon the mixture into glasses or ramekins and chill for at least 2 hours before serving.
You may garnish with whipped cream and grated chocolate. Than mix in whites then cream.