Enjoy the Caramel and Honey Nut tart with a rich caramel honey filling topped with chopped mixed nuts baked in a flaky pastry tart!
Cuisine : Baking Course : Dessert Skill Level : Novice
Prep : 20 mins Cook : 30 mins Ready in : 50 mins Serves : 4-6

---
INGREDIENTS:
125g Flour
35g Icing sugar
60g Butter(cold)
Milk as required
30g Sugar
60g Honey
20g Butter
100g Fresh Cream
140g Mixed nuts (chopped and roasted)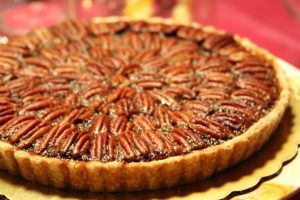 DIRECTIONS:
Stir the flour and the icing sugar together.
Chop up the butter and crumble it into the flour.
Add enough of cold milk to form a dough.
Cling wrap and refrigerate for 20 minutes.
Roll out the dough on a floured surface and line a pie tin with it.
Place a sheet of baking paper over the pastry and fill it with beans or any pie weight.
Bake it in a preheated oven at 180 C for 20 minutes or until evenly browned. Remove the pie weights in between the baking.
Place the sugar and honey in a pan and stir over low heat until the sugar melts. Bring to boil.
Cook the mixture for 2 minutes.
In separate pan heat butter with the cream and the salt until hot. Add it to the sugar mixture and simmer for 2-3 min.
Mix in the nuts and spoon the mixture over the hot pastry.
Return to the oven for 5 – 7 minutes remove and cool. Serve at room temperature.