Looking for a rich and decadent seafood dish? Try this perfect combination of lobster and uni butter that is made of sea urchin by Chef Michele.
Cuisine : European Course : Main Skill Level : Novice
Prep : 15 mins Cook : 15 mins Ready in : 30 mins Serves : 2

---
INGREDIENTS:
2 tbsp Shallots, minced (about 2)
2 cloves Garlic, minced
¼ tsp (pinch) Cayenne
1 tbsp Olive oil
½ cup White wine
½ Chicken stock
8 no. Sea urchin
½ cup Butter, cut into chunks
1 tbsp Chopped parsley
1 no. Lobster, halved, claws cracked
Salt & ground black pepper to taste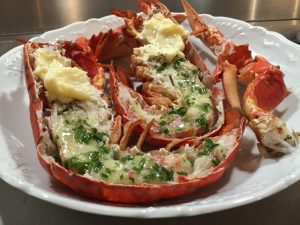 DIRECTIONS:
In a 9-inch sauté pan over medium-high heat sweat shallots, garlic, and cayenne in the olive oil. About 2 minutes, until limp.
Add white wine and chicken stock, reduce this by half.
Add sea urchin, cook it for 30 seconds.
Whisk in butter, chunk at a time, breaking up urchins as you mix.
Add parsley and season with salt and pepper.
Grill lobsters, shells up, for 10minutes.
Turn lobster, spread butter and grill for 5 minutes.
It's ready to be served!