Learn to make this rich and creamy Indian dish, Butter Chicken at home step-by-step with Chef Julie recipe.
Cuisine : Asian Course : Main Skill Level : Novice
Prep : 250 mins Cook : 40 mins
Ready in : 290 mins Serves : 2-4
---
INGREDIENTS:
Group A – Marinating Spices
1kg Bonesless Chicken
2 tbsp Plain Yoghurt
1 tsp Red Chili Powder
1/2 tsp Garam Masala Powder
2 tsp Tandoori Powder
2 tsp Garlic, minced
2 tsp Ginger, minced
A Pinch of Char Siew Coloring (No. 284)
1 tbsp Soft Butter ( Not Added In)
Group B – Rempah Paste (Blend Together)
2 Big Onions
100g Small Onions
50g Garlic
1 tbsp Ginger
1/4 tsp Cloves Powder
1/2 Cinnamon Powder
10 Cashew Nuts / Candle Nuts
10 Black Peppercorns
1 Fresh Green Chili
Group C – Frying with Chicken
Dry Spices
1 tsp Turmeric Powder
1-2 tbsp Red Chili Powder
3 Bay Leaves
Wet Ingredients
Fresh Tomato
Tomato Puree
Plain Yoghurt
Group D
4 tbsp Dairy Cream
1/2 tsp Garam Masala Powder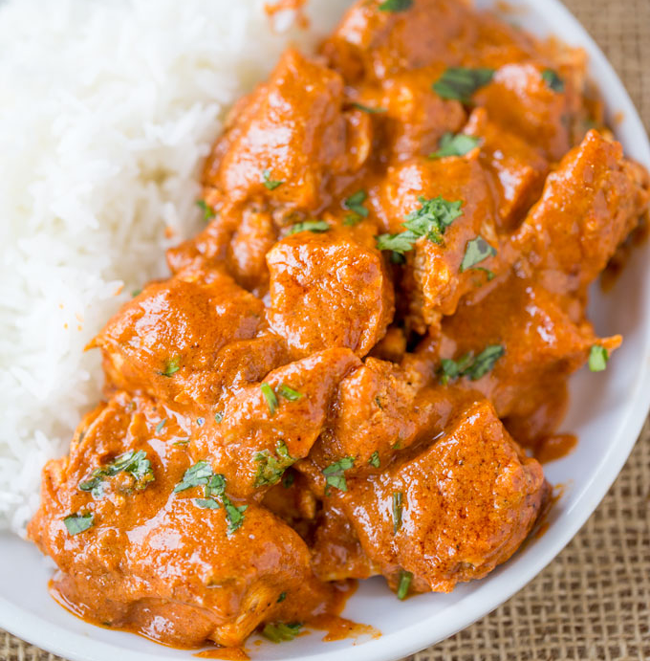 DIRECTIONS:
Directions for Group A
Mix all ingredients from Group A together in a big bowl.
Marinate the chicken for at least 4hrs- to overnight in the fridge.
Rub chicken with 1 tbsp of soft butter.
Bake chicken for 15mins at 180C.
Directions for Group B & C
Fry the Rempah paste for 2 mins.
Add in the Dry Spices in Group C.
Stir in the wet ingredients in Group C.
Fry paste till jammy.
Add in the baked chicken and the balance chicken gravy from the baking pan.
Cover and simmer for 15mins or till tender.
Stir in the cream and Garam Masala powder in Group D before offing the stove.
Garnish with coriander and serve with rice or Artisan bread.