The pork belly is braised until tender and glazed in a braising liquid made from mirin, sugar, and soy sauce. An important point to note is the significance of using japanese soy sauce which gives the pork belly its rich flavour.
Cuisine : Asian Course : Main Skill Level : Novice
Prep : 15 mins Cook : 75 mins Ready in : 90 mins Serves : 2

---
INGREDIENTS:
200g Pork Belly (blanched)
100g White Radish
100ml Mirin
60ml Japanese Soya Sauce
1 stalk of Japanese Scallions
2 pieces of Old Ginger
350ml Water
2 Hard Boil Eggs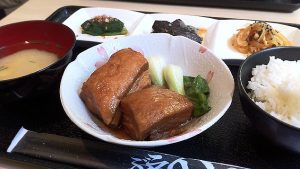 DIRECTIONS:
Wash clean the pork belly. Blanch in water for 10minutes. Cut radish into wedges.
Combine mirin, soya sauce and sugar in braising pot. Bring to boil. Light char the scallion on gas stove. Add to braising liquid with ginger. Pour in water and bring sauce to boil.
Cut the chilled pork into pieces and braise in sauce for 45minutes to an hour. In the last 15minutes, add the hard boiled eggs.
Serve buta kakuni with eggs, Japanese pickles and rice.