This spicy-sour fish based noodle soup is created by saute-ing the spice paste till it is fragrant before starting on the broth. Season with salt, sugar, fish sauce and prawn paste to taste.
Cuisine : Asian Course : Main Skill Level : Novice
Prep : 20 mins Cook : 60 mins Ready in : 80 mins Serves : 2

---
INGREDIENTS:
Broth
6 tbsp Oil
60g Spice Paste (refer to Spice Paste recipe)
50g Chilli Boh (paste)
300g Mackerel Fish Fillet (steamed)
5 litres of Water
60g Tamarind Pulp
200ml Waiter
2 sprigs of Laksa Leaves
30g Gula Melaka or Brown Sugar
2 tsp Fish Sauce
½ tsp Salt (to taste)
2 pieces of Dried Tamarind Peel or Dried Tamarind Skin (asam keping/asam gelugor)
Assembly
350g Laksa Rice Noodles (blanched)
1 Small Local Cucumber (julienned)
1 Red Onion (very thinly sliced)
1 wedge of Pineapple (finely chopped)
1 Fresh Red Chilli (deseeded and sliced)
1 bunch of Mint Leaves
1 bunch of Laksa Leaves
Torch Ginger Flower (Bunga Kantan, finely chopped)
Prawn Paste or Hae Ko (whisked with a little boiling water to a slightly running consistency)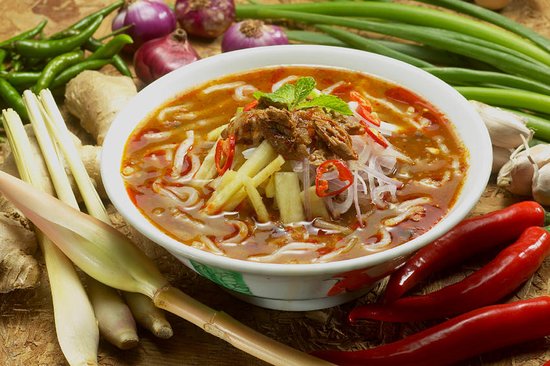 DIRECTIONS:
Heat oil and sauté spice paste till fragrant. Add in chilli paste and cook for two minutes.
Bring water to a boil, add in fish and cook for 10 minutes. Remove fish from pot and set aside to cool but keep the stock in a slow simmer.
Mix 125ml of water with the tamarind pulp and leave to stand for a few minutes. Squeeze the tamarind pulp to break it up and extract the juice. Strain and set aside.
Fry the spice paste till fragrant, add tamarind juice, tamarind peel and laksa leaves to the broth and simmer for 40 minutes. Season with salt, sugar, fish sauce and prawn paste to taste.
Remove the flesh from the fish and set aside. Remove all the bones, brown bits and skin. Flake and set aside.
Strain the stock and adjust seasonings to taste with salt and sugar. Add almost all of the flaked fish to the soup and use retain a small amount to garnish the bowls.
Fill bowls with rice noodles and ladle hot soup over it. Garnish with cucumber, onions, pineapple, chilli, mint leaves and serve immediately with prawn paste to the side.