These yummy biscuits are made from a delicious blend of cheese, chives and buttermilk. Perfect for any occassion! #QuickBites
Cuisine : Western Course : Appetizer  Skill Level : Novice
Prep : 30 mins Cook : 20 mins Ready in : 50 mins  Serves : 4 servings
---
INGREDIENTS             
3 cups All-purpose Flour
2 tbsp Baking Powder
½ tsp Salt
115g White Cheddar
¼ cup Chives, chopped
¾ cup Salted Butter, cold and cubed
1¼ cups Buttermilk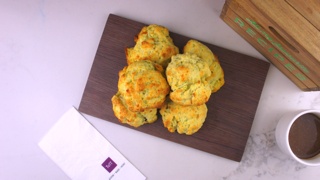 Directions:
Preheat oven to 200°C.
Combine flour, baking powder, salt, cheese, chopped chives, butter and buttermilk in food processor. Pulse till evenly mixed.  Add more buttermilk bit by bit if dough is overly dry.
Drop dough onto baking sheet in ¼ cup portions.
Bake for 12-15 minutes, or until golden brown.
Brush with melted butter
6. Serve warm!