A mild, nutty flavored rice salad that is just as delicious whether served hot or cold. Consider going for brown rice (instead of white) the next time you are at the supermarket. The side hulls and brans are rich in proteins, thiamine, calcium, magnesium, fiber, and potassium, not to mention the grain has been proven to help weight loss!
Cuisine : European Course : Appetizer Skill Level : Novice
Prep : 25 mins Cook : 5 mins Ready in : 30 mins Serves : 8

---
INGREDIENTS:
3 cups of Cooked Naturel Organic Brown Rice
6 tbsp of Naturel Extra Virgin Olive Oil
1 Orange
Juice of ½ Lemon
20g Coriander (chopped roughly)
20g Chives (minced)
1 Large Red Onion (sliced thinly)
18 Prawns (peeled and deveined)
100g French Beans
2 tbsp of Naturel Canola Oil
20g Butter
6 Bamboo Skewers
Salt and Pepper (to taste)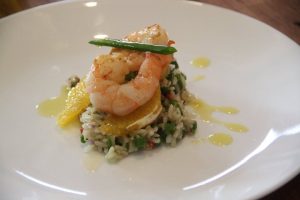 DIRECTIONS:
Place the sliced onion in the lemon juice (this reduces the harshness of the onions) for about 10 minutes.
Blanch the French beans in salted boiling water for about 30 seconds before draining. Cut the beans into small dice.
In a mixing bowl, peel the orange and remove the meat segments, catching any juices that drip.
Mix the rice, sliced onion with lemon juice, orange segments with juice, coriander, chives, French beans, Naturel olive oil and season to taste with salt and pepper.
Skewer the prawns with the bamboo sticks (3 each) and season with salt and pepper.
Heat a pan with the Naturel canola oil over high heat and sear the prawns with the butter for about 1 minute per side.
Serve the prawns with Naturel organic brown rice salad.