Filled Chicken Breast with Asian Pesto and Oven-Dried Cocktail Tomatoes, Quinoa and Parmesan Foam
by Susanne Despature

Stuffed chicken breast with pesto with a twist using typical Asian ingredients and cherry tomatoes. Also learn the tricks behind a posh Parmesan Foam! The formal-looking vegetable cuts, Brunoise will enhance the quinoa's (a grain-like crop) appearance and add flavour to this healthy and tasty side dish served with the succulent chicken breast.
Cuisine : Fusion Course : Main Skill Level : Novice
Prep : 15 mins Cook : 110 mins Ready in : 125 mins Serves : 4

---
INGREDIENTS:
Stuffed Chicken Breasts

Italian Basil (leaves coarsely chopped)
50g Coriander (leaves coarsely chopped)
20g-30g White Almonds (or pin nuts), chopped
2 cloves of Garlic (chopped)
5cm Young Ginger (peeled and chopped)
½ tsp Coarse Salt
2-3 tbsp Olive Oil
50g Freshly Grated Parmesan Cheese

Semi-Dried Cherry Tomatoes

3 x 4 Cherry Tomatoes (on vine)
2 tbsp Olive Oil
Salt, Pepper, Thyme, Icing Sugar

Quinoa

120g Quinoa
250ml Chicken Stock
50g Pitted and Diced Black Olives
50g Diced Sundried Tomatoes

Parmesan Foam

70g Freshly Grated Parmesan
40g Unsalted Butter
200ml Milk
15 cl Chicken Stock
Salt and Pepper
White Truffle Oil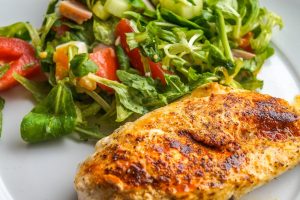 DIRECTIONS:
          For Stuffed Chicken Breast
Slice the chicken breast open, in order to get a bigger surface – cover it with cling wrap and pound it until very thin (take a heavy pan to flatten it).

Spread 1 tablespoon of Asian Pesto on the chicken breast; add sundried tomatoes.

Roll up and secure with slices of raw ham (if you don't intend to cook the chicken rolls at this moment, refrigerate until use. Take them out at least 30 minutes before frying them in the pan!)

Preheat the oven at 80°C – put a plate on the griddle.

Heat butter in a heavy bottomed frying pan – when it's hot, sear the chicken rolls all over until it has a golden brown crust (takes about 5 minutes).

Put them in the oven on the plate and control the core temperature with a oven-proof thermometer: it has to reach 70°C (about 30 – 40 minutes, which leaves enough time to prepare the quinoa!)

For Cherry Tomatoes

Place the cherry tomatoes on their vine(always 3 together) in a ovenproof dish.

Drizzle some olive oil over the tomatoes, sprinkle with salt, pepper & thyme, then dust with icing sugar.

Dry out in the oven for 1 hour at about 100°C.

To serve, slice the chicken rolls in 5-6 pieces and serve with semi-dried Cherry tomatoes, Quinoa and Parmesan foam.

For Quinoa   

Pour the quinoa in a bowl and add water.

Rinse it (it comes naturally with a bitter coating called saponin, which must be rinsed off) by stirring the quinoa with your hand – pour off the rinsing water using a fine mesh strainer. Place it in a cooking pot and add the chicken stock.

Bring to a boil, cover with a lid and turn the heat down to simmer for about 15 minutes. Check if the quinoa is cooked – fluff it gently with a fork and add diced black olives and sun dried tomatoes (with some of its oil).

For Parmesan Foam

In a small sauce pan, combine milk and chicken stock and bring to a boil.

Remove from heat, than add grated parmesan and butter (cut in small pieces).

Use a hand mixer and froth to create some foam – season to taste with salt and pepper, add some drops of white truffle oil. Serve immediately.