This dish is an ultimate local favourite. Make your own paste fit for an emperor with the ingredients of your choice: dried scallops, dried shrimps, garlic and lots of chillies!
Cuisine : Asian Course : Main Skill Level : Novice
Prep : 10 mins Cook : 15 mins Ready in : 25 mins Serves : 4

---
INGREDIENTS:
250ml Oil
100ml Chilli Oil
1 tbsp Chopped Garlic
100g Chopped Shallots
30g Tee Poh Fish (Dried Flat Fish Fillets), deep fried till crispy, grounded
160g Dried Shrimp (coarsely blended, soaked for 10 minutes)
40g Dried Scallops (blended and soaked for 10 minutes)
40g Jinhua Ham (diced)
2 tbsp Light Miso Paste
3 tbsp Sugar

Assembly

2 packets of Dried Mee Pok Noodles (~100g each)
100ml Water
1 tsp Concentrated Chicken or Scallop Flavoured Stock
160g XO Sauce
4 pieces of Kai Lan/Taiwanese Baby Cabbage (Xiao Bai Cai), blanched
12 pieces of Fresh Prawns (blanched)
Coriander Leaves (for garnish)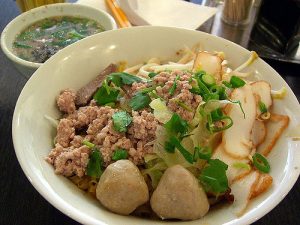 DIRECTIONS:
Combine water with Maggi Concentrated Chicken Stock. Bring to the boil and add the chili oil and XO Sauce.
Bring a large pot of water to boil. Blanch noodles for 30 seconds and transfer to XO sauce. Braised noodles for 2 minutes until cooked.
Divide noodles into 4 portions. Top up noodles with blanched Taiwanese cabbage and fresh prawns. Garnish with coriander leaves and serve.