Black Glutinous Rice with Gula Melaka and Yam Coconut Ice Cream
by Eric Low

This easy-to-make dessert combines glutinous rice, dried longan, pandan leaves and water. Gula Melaka can be added before serving to accommodate personal preference.
Cuisine : Asian Course : Dessert Skill Level : Novice
Prep : 10 mins Cook : 60 mins Ready in : 70 mins Serves : 2

---
INGREDIENTS:
50g Black Glutinous Rice
20g White Glutinous Rice
1 piece of Dried Longan
1 piece of Pandan Leaves (tied up)
750ml Water (plus extra for standby)
2 tbsp Gula Melaka
Assembly
Yam and Coconut Flavoured Ice Cream or Vanilla Ice Cream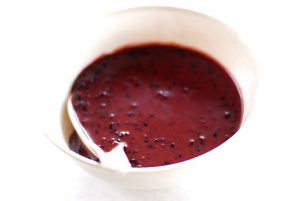 DIRECTIONS:
Combine the two kinds of glutinous rice with dried longan, pandan leaves and water. Bring to boil and simmer for 60 minutes. Add extra water if necessary.
Add Gula Melaka and adjust to taste. Cool and chill the glutinous rice till ready to serve.
Divide the glutinous rice to 4 portions. Serve with a scoop of ice cream.