Have fun with the kids in the kitchen as you engage their help with this recipe. Spend some bonding time together and be rewarded with these amazing sweet treats!
Cuisine : Baking Course : Dessert Skill Level : Novice
Prep : 135 mins Cook : 8 mins Ready in : 143 mins Serves : 54 cookies

---
INGREDIENTS:
2 ¾ cups Flour
2 tsp McCormick® Cream of Tartar
½ tsp Salt
1 tsp Baking Soda
1½ cup Sugar
1 cup (or 2 sticks) Butter (softened)
2 Eggs
2 tsp McCormick® Pure Vanilla Extract or 2 tsp Premium Imitation Vanilla Extract
Additional Sugar or Colored Sugar (for rolling)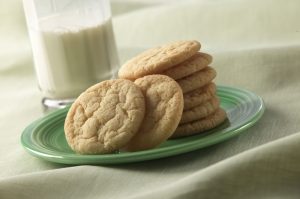 DIRECTIONS:
Mix flour, cream of tartar, baking soda and salt in large bowl. Set aside. Beat sugar and butter in large bowl with electric mixer on medium speed until light and fluffy. Add eggs and vanilla; mix well. Gradually beat in flour mixture on low speed until well mixed.
Refrigerate dough about 2 hours or until firm.
Preheat oven to 400°F. Shape dough into 1-inch balls. Roll in additional sugar or Colored Sugar. Place 2 inches apart on baking sheets.
Bake 6 to 8 minutes or until lightly browned. Cool on baking sheets 1 minute. Remove to wire racks; cool completely.