This classic Beef Rossini is decadent and perfect for any special occasion. With tenderloin seared to perfection and topped with creamy Foie Gras and slices of black truffle, it's a meat-lover's delight!
Cuisine : European Course : Maint Skill Level : Novice
Prep : 5 mins Cook : 35 mins
Ready in : 40 mins Serves : 2
---
INGREDIENTS:
2 Tenderloin
Salt and Black Pepper
2 tbsp Butter
Beef Stock
Demi Glaze
2 slices Baguette
2 slices Fresh Foie Gras (optional)
2 tbsp Red Wine
2 Thin Slices of Black Truffle / Truffle Jam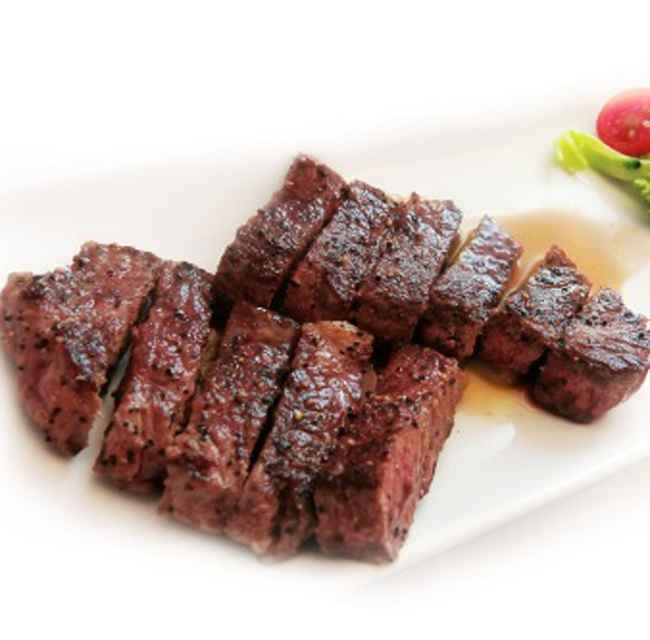 DIRECTIONS:
Season the fillets with salt and pepper; set aside.
In a large skillet over medium heat, melt a third of the butter with the oil and quickly fry the slices of bread until lightly browned on both sides; remove and set aside. Add another third of the butter to the skillet, and sauté the Filet Mignons over high heat for 4 minutes a side for rare or 5 minutes a side for medium-rare. Remove the fillets from the skillet, set aside and keep warm.
Using the same skillet and high heat and sauté the Foie Gras slices 90 seconds on each side and put 1 slice on each of the fillets.
Discard all fat from the skillet. While the skillet is still hot, add the red wine, scraping the bottom of the pan. Add the veal stock mixture, bring to a quick boil, then remove from heat and stir in the remaining butter to make a silky sauce. Season with salt and pepper to taste.
On each of two plates, place the croutons in the center and top with the Filet Mignon and Foie Gras. Garnish with truffle jam. Spoon the sauce over and around. Serve hot.