Thinking of something light and easy? Try this Mango Sago with chia seeds recipe for the perfect finish to your meal!
Cuisine : Asian Course : Dessert Skill Level : Novice
Prep : 15 mins Cook : 15 mins Ready in : 30 mins Serves : 4

---
INGREDIENTS:
80gm Sago (sago pearls)
1/2 cup Mango Juice
1/2 cup Water
1 Mango, cubed
2 tbsp Chia Seeds
1/2 cup Coconut Milk/Evaporated Milk/Cream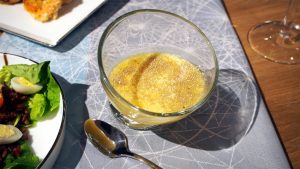 DIRECTIONS:
Put sago into a pot of 1 litre of boiling water. Bring it boil again. Remove from the heat and keep the lid on. Let the sago cook in the residual heat for about 10 to 15 minutes, until translucent. Drain through a sieve. Rinse with running cold water. Drain well. Set aside.
In a metal bowl, combine mango juice and water together.
Cut the mango flesh into cubes.
Use a large mixing bowl. Put in the mango and mango juice mix. Pour in the coconut milk.
Top with chia seeds and mango juice. Refrigerate for 2 hours.
Enjoy!