This Banana Walnut Chiffon Cake recipe produces a moist, soft, and flavourful cake that will be loved in the next get-together.
Cuisine : Baking Course : Dessert Skill Level : Novice
Prep : 15 mins Cook : 70 mins Ready in : 85 mins Serves : 6-8

---
INGREDIENTS:
Group 1 – Hand-whisk Together
70 gm Egg yolk
40 gm Warm Oil
30 gm Water
30 gm Fine Sugar
Group 2 – Mix Well
70 gm Ripe Banana – Mashed Coarsely
120 gm Ripe Banana – Cut into Cubes
1/2 teasp Lemon Juice
Group 3
110 gm Cake flour (sifted)
Group 4 – Beat together last using mixer
2 tsp Corn
90 gm Castor Sugar
180g Egg Whites
Group 5
Walnut Bits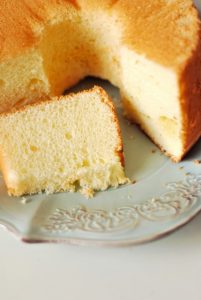 DIRECTIONS:
Tray preparation: 20cm chiffon tin.
Oven Preparation: Pre-heat oven at 170°C for at least 20mins.
Use a hand whisk to combine (Group 1) together。
Pour the warm liquid mixture (Group 2) & mix well.
Add in sifted flour (Group 3) & mix till just smooth.
Whisk the egg-white lightly.
Add in the corn flour & sugar gently & whisk till firm peak.
Fold the Yolk mixture into it. (Step 3 to 5)
Add in the walnut bits (Grp.5) last.
Pour mixture into dry and clean chiffon tin.
Bake at low shelf – Bake at 170°C (non-fan mode) and bake for 15mins then lower to 160°C and bake for another 55mins or till dark golden brown.
Turn cake tin upside down & cool cake completely before un-mould.