Water kefir is a source of beneficial bacteria. This recipe by Chef Geeta teaches you how to brew water kefir for a healthier lifestyle!
Cuisine : Healthy Cooking Course : Condiment Skill Level : Novice
Prep : 30 mins Cook : 2850 mins Ready in : 2880 mins Serves : 1-2

---
INGREDIENTS:
2-4 tbsp Water kefir crystals
4 tbsp Cane Sugar
4 cups Water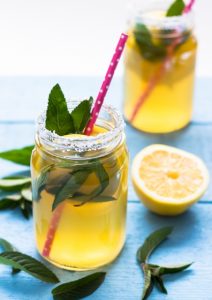 DIRECTIONS:
To a glass jar add 4 cups of room temperature, filtered or spring water.
Add 4 tbsps of cane sugar, stirring to dissolve. You can use brown sugar, white sugar, sucanat or raw sugar. Certain types of sugar don't dissolve properly in water so you would have to heat the water slightly to dissolve the sugar. However before you add the water kefir grains to the sugar solution it must be totally cool or else the grains will die.
Let this solution sit on the counter for 1-2 days with a cloth napkin secured by a rubber band. You will see the mixture become slightly cloudy with a mild sweet taste.
Now strain out your water kefir grains with a plastic strainer & place them in a new sugar water mixture to make your next batch.
You can drink the water kefir straight away with a squeeze of lemon or you can do a second ferment for more flavour & fizz.