Comforting banana bread muffins with a crunch of granola on top. Funs treat anytime of the day!
Cuisine : Baking Course : Dessert Skill Level : Novice
Prep : 15 mins Cook : 30 mins Ready in : 45 mins Serves : 12

---
INGREDIENTS:
3/4 cup Granola
120 g Plain Flour
1/2 teasp Baking soda
3/2 teasp Baking powder
100 g Fine sugar
110 g Olive oil
1 Egg (large)
1/2 teasp Vanilla extract
220 ml Mashed banana
1 teasp Lemon juice
1/4 teasp Salt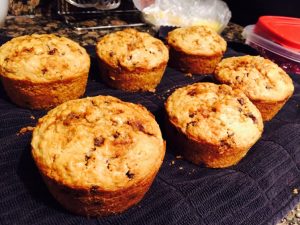 DIRECTIONS:
Mashed the banana coarsely with a fork and add in the lemon juice and salt
Sift the flour, baking powder and baking soda together.
Whisk oil and sugar together till sugar melt.
Add in the beaten egg and vanilla extract.
Add in the banana & sifted flours into mixture.
** Fold gently and mix briefly till small lumps of flour is still visible.
Sprinkle whole grain cereals on top. Decorate with extra slices of banana.
Bake the muffins at 180ºC for 25 -30mins (fan- mode) till golden brown.