Share these layers of goodness made using fresh sheets of pasta, Tomato Concasse, Chicken Ragu Sauce and Bechamel Sauce with your family and friends.
Cuisine : European Course : Main Skill Level : Novice
Prep : 30 mins Cook : 60 mins Ready in : 1 hr 30 mins Serves : 2-4 Servings
---
INGREDIENTS
Homemade Pasta

200g All Purpose Flour
2 Large Eggs

Tomato Concasse

3 tbsp Olive Oil
2 cloves Garlic, chopped
3 Fresh Tomatoes
1 can Tomato Paste
1 tsp Dried Basil
1 tsp Dried Marjoram
2 pcs Bay Leaves
1 tbsp Honey
Salt and Pepper to Taste

Chicken Ragu Sauce

200g Minced Chicken
1 tbsp Dried Italian Herbs
Salt & Pepper
½ Yellow Onion
1 tbsp Minced Garlic
400g Tomato Concasse
½ cup Milk

Bechamel Sauce

500ml Milk
2 pcs Bay Leaves
½ no Yellow Onion
¼ tsp Nutmeg Powder
30gm Unsalted Butter
30gm All-Purpose Flour

Lasagne Assembly

200gm Mozzarella Cheese
Cheese Powder to Sprinkle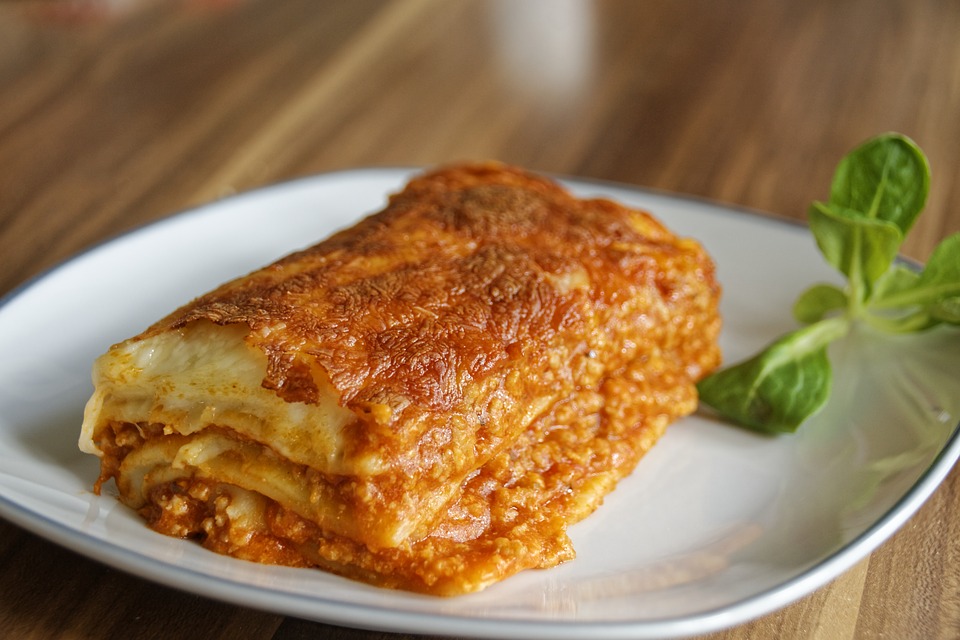 DIRECTIONS FOR HOMEMADE PASTA
In a stand mixer attached with a dough hook, combine all ingredients and mix.
Beat until dough become light yellow, smooth and soft.
Roll and cut the pasta dough into long sheets.
Dust with semolina and flour.
Set aside until ready to boil.
DIRECTIONS FOR TOMATO CONCASSE
Heat up olive oil in a pot.
Add chopped garlic and sauté till soft.
Add chopped fresh tomatoes. Simmer until tomatoes are soft.
Add Honey, Dried herbs and seasonings.
Cool down.
DIRECTIONS FOR CHICKEN RAGU SAUCE
In a bowl, marinate minced chicken with dried herbs, salt and pepper.
Heat up olive oil in a saucepot.
Add chopped garlic and onion, sauté till soft.
Add Tomato Concasse, dried herbs and seasonings and simmer.
Add marinated chicken. Sauté, followed by milk. Simmer to reduce.
Reserve till use.
DIRECTIONS FOR BECHAMEL SAUCE
In a pot combine the milk, bay leaves, onion and nutmeg and gently bring to the boil.
In another pot, melt butter and add the flour. Mix well and cook for approximately 2 minutes.
Remove the milk from the heat and add a little to the flour mixture.
Combine well, and when all the milk has been absorbed, add a little more.
Continue to do this until all the milk has been added, whisking continually.
DIRECTIONS FOR LASAGNE ASSEMBLY
In a deep pot, boil water and add salt.
Blanch the pasta for approximately 4-5 minutes. Drain and toss with olive oil.
Spoon a third of the béchamel sauce into the bottom of a lasagne dish in a layer, then place some of the pasta strips over the top followed by the mozzarella and sprinkle over freshly ground black pepper.
Followed by a layer of the herb chicken ragu.
Repeat until all the ingredients have been used up.
Drop knobs of butter over the surface and bake in a preheated oven of 180 degree for approximately 25 minutes until the top is golden-brown.