With Easter around the corner, serve up a carrot patch of chocolate mousse cups on a platter! These cute individual mousse cups are decorated like carrots growing in the ground – fun to eat and even easier to put together with the kids! And best of all, they require no baking at all! #QuickBites
Cuisine : Baking  Course : Dessert  Skill Level : Novice
Prep : 10 mins Cook : 20 mins Ready in : 30 mins  Serves : 1-2 Servings
---
INGREDIENTS             
Chocolate Mousse

100g bar Good Quality Plain Chocolate
50ml Milk
200ml Double Cream

Chocolate Coated Strawberries

1 packet Strawberries
1 bar of White Chocolate
Orange Food Coloring

1 packet of Oreo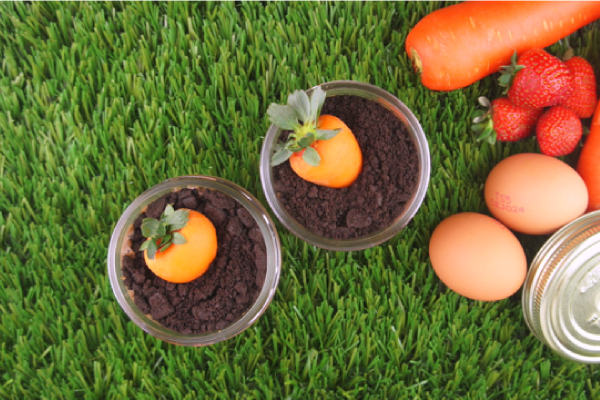 DIRECTIONS FOR CHOCOLATE MOUSSE
Melt the chocolate in a bowl over a pot of simmering water (Double boiling)
Heat the milk until it starts boiling then whisk in melted chocolate. Leave it to cool/
Whip the cream until soft peak, then fold into cooled chocolate.
Pour the chocolate mousse into La Parfait jars and allow it to cool.
DIRECTIONS FOR CHOCOLATE COATED STRAWBERRIES
Melt a bar of white chocolate and add in a drop of orange food coloring.
Dip the strawberries into the melted chocolate.
DIRECTIONS OF 'DIRT'
Remove the cream filling and blend the oreo biscuit until crumbly.
ASSEMBLY 
Pour the chocolate mousse into Le Parfait jars.
Top oreo as 'dirt'.
Top chocolate strawberries as 'carrots'