Love churros but don't like the fact that they're deep fried? Try these baked churro twists! No one will be able to resist dunking these sweet, crispy pastry strips into a luscious chocolate sauce! #QuickBites
Cuisine : Baking  Course : Dessert  Skill Level : Novice
Prep : 20 mins  Cook : 20 mins Ready in : 40 mins  Serves : 4-6 Servings
---
INGREDIENTS             
Churro Twists  
1 Sheet of Puff Pastry, thawed
4 tbsp Granulated Sugar
1 tsp Ground Cinnamon
Eggwash (one egg beaten with 1 tbsp milk/water)
Chocolate Sauce 
1 cup Semisweet Chocolate
1/2 cup Heavy Cream
1 tbsp Unsalted Butter, softened at room temperature
1/8 tsp salt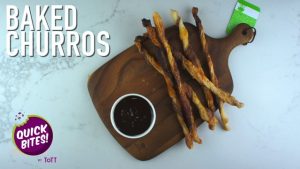 DIRECTIONS
Line 2 baking sheets with some parchment paper. In a small bowl, mix together the sugar and cinnamon and set aside.
Lay out the puff pastry on a lightly floured surface, roll it out so it's around 1" bigger, brush the egg wash all over the top, then sprinkle evenly with the cinnamon sugar mixture.
Cut about 1 inch strips lengthwise using a pizza cutter, then take the two ends and give it a few twists. Place on baking sheet.
Preheat your oven to 190°C, bake the twists for 15 to 20 minutes or until golden brown.
While the twists are cooling, prepare the chocolate sauce.
In a small saucepan, add all the ingredients for the sauce, stirring constantly on medium-low heat, cook the mixture until everything is evenly melted then pour the sauce in a dish.