Baked pasta is a hearty meal that you can prepare in advance. Try this Baked Broccoli and Mushroom Pasta recipe from Chef Julie for a hearty and delicious dinner!
Cuisine : European Course : Main Skill Level : Novice
Prep : 25 mins Cook : 30 mins Ready in : 55 mins Serves : 2

---
INGREDIENTS:
180 gm Pasta
120 gm Broccoli
5 nos Shitake Mushroom, sliced 2 cloves
25 gm Garlic, chopped
25 gm Plain Flour
330 ml Butter
1 tsp Full Cream Milk
½ tsp Mustard
1 tsp Garlic Powder
1 pinch Nutmeg
As desired Black Pepper
80 gm Cheddar Cheese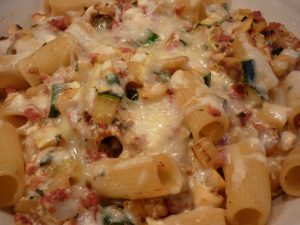 DIRECTIONS:
Cook the pasta to al dente following pack instructions (if you're freezing, cook for 1 min less), adding the broccoli for the final 3 minutes. Drain.
Heat the butter in the pan until foaming then stir in the flour for 1 minute.
Pour in the milk a little at a time, stirring or whisking constantly to remove any lumps. Bubble for 1-2 minutes, stirring constantly until you have a thick, lump-free sauce. Remove from the heat and stir in some nutmeg, the mustard powder, and ½ of the cheese and seasoning. Put aside.
Fried chopped garlic for 1minutes. Add in the Shitake mushroom and fry for 2 minutess. Add in sliced meat or seafood if used. Pour in the milk.
Combine with the pasta and broccoli and transfer to one large heatproof dish.
Scatter over the remaining cheese on top and bake for 15 minutes until golden and bubbling.
To freeze, cool pasta before freezing. This can keep up to1 month. If frozen, defrost then bake at 200C for 30 minutes until piping hot.