100C Roasted Beef Strip Loin with Chinese Style Porcini Mushroom Sauce
by Eric Low

Start the session with some tips on making a sumptuous sauce that will make a perfect complement to the tender and juicy roasted beef strip loin. Not only will you learn to create a killer mushroom sauce, Chef Eric will also share his roasting secrets on achieving the ideal beef texture.
Cuisine : Asian Course : Main Skill Level : Novice
Prep : 10 mins Cook : 30 mins Ready in : 40 mins Serves : 8

---
INGREDIENTS:
Beef
5-1.8kg of Beef Sirloin (Ask butcher to remove sinew layer and slice the loin length wise into 3 long strips)
Salt and Coarsely Ground Black Pepper
Porcini Mushroom Sauce
2 tbsp Oil (for cooking)
100g White Onions (diced)
2 Cloves of Garlic (chopped)
100g Dried Porcini Mushrooms (soaked, drained, and diced)
250g King Oyster Mushrooms (diced)
150ml Japanese Soya Sauce
2 tbsp Marmite Paste
100ml Water
1 tbsp Sugar
4 tbsp Maltose
Garnish
8pcs of Broccoli Florets (blanched)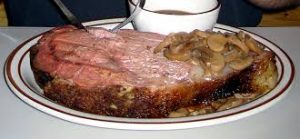 DIRECTIONS:
Preheat oven to 100°C. Season beef loins with salt and pepper. In a heated pan, sear the beef loins on all sides and transfer to roasting pan. Roast beef loins for 20 minutes. Check for doneness with meat thermometer. Aim for about 60°C.
Heat oil in sauce pot, sauté onions and garlic till fragrant. Add both mushrooms and soya sauce.
Mix in marmite paste, water sugar and maltose. Bring to boil and simmer till sauce is slightly syrupy.
Allow beef loins to rest for 10 minutes after roasting. Slice the meat and serve with porcini mushroom sauce, garnish with broccoli florets.