Made with finely chopped dates, this rich and decadent Sticky Toffee Pudding by Chef Michele Ow is the perfect way to end your day!
Cuisine : Baking Course : Dessert Skill Level : Novice
Prep : 5 mins Cook : 30 mins Ready in : 35 mins Serves : 2

---
INGREDIENTS:
100g Pitted Dates
200ml Water
½ tsp Bicarbonate of Soda
40g Unsalted Butter
80g Castor Sugar
1 no. Large Egg
100g Self-raising Flour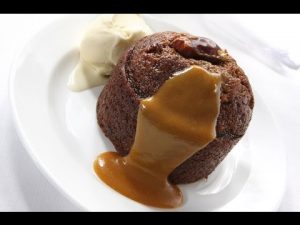 DIRECTIONS:
Preheat oven to 180°C.
Put pitted dates and water in a saucepan and bring to boil. Thereafter, turn off heat.
Add bicarbonate of soda; allow to cool
Cream butter and sugar until light and fluffy.
Add egg.
Add in sifted flour and then date mixture and mix until combined.
Pour into ramekins and bake for 20 minutes
Allow to cool completely in ramekin.
Turn the cake out unto serving plate.