Dipped in a rich dark chocolate, these moreish Viennese Fingers are easy to make and ideal for sharing. Try this recipe from Chef Audra Morrice – they include crumbed pistachios that add extra flavour and texture!
Cuisine : Baking Course : Dessert Skill Level : Novice
Prep : 30 mins Cook : 10 mins Ready in : 40 mins Serves : 2-4

---
INGREDIENTS:
230g Unsalted Butter, room temperature
60g Icing Sugar
1½ tsp Vanilla Extract
250g Plain Flour, sifted
Pinch of Salt
1 tbsp Pistachio Kernels, toasted and coarsely crumbed
100g Dark Chocolate, melted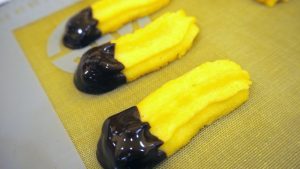 DIRECTIONS:
Preheat your oven to 180⁰C. Line 2 baking sheets with greaseproof paper.
Cream the butter and sugar until pale and fluffy. Mix in the vanilla. Add the flour and salt, pulse until just combined.
Fill a piping bag fitted with a 1cm star nozzle with the biscuit dough. Pipe out lengths of cookie, spacing them about 2cm apart. Sprinkle over a little pistachio and bake for 10 mins or until very lightly coloured. Remove and cool on a rack.
When the cookies have cooled, dip one or both ends into the melted chocolate and let it set on a rack. Store in an air-tight cookie jar.
Note: in warmer climates, remove the butter from the fridge for about 10 mins before using.