Having a food processor in the kitchen is like having a personal helper. This capable countertop appliance can do almost anything: chopping, slicing, grating, grinding and for certain advanced models, it can even cook your meal!
Here are some common food processors found in the kitchen:
Grinder: A food processor that grinds various food items like spices, nuts, grains and coffee. The shape of the blade is designed to pulverize all items into fine powdered form and there are different blades which creates fine and coarse grinding.
Juicer: A special type of food processor that extracts juices from fruits and vegetables. What sets juicers apart from similar appliances is that it separates the juice from the solid residue, giving filtered and delicious juice.
Mixer: A basic processor, mixers are meant for mixing numerous food items for a particular recipe. They can chop, slice and shred depending on how you need your ingredients prepared. The other add-on blades provided are for dough kneading and cutting soft items like tomatoes and ripe fruits.
Chopper: This machine primarily does cutting and chopping for vegetables, nuts and spices. A chopper allows you to have nicely-chopped ingredients instead of paste.
Blender: Works best with liquids and therefore its main functions are emulsifying, liquefying and pureeing. [See our "Guide to buying blenders "for more information].
All-in-one processor: As the name suggests, this machine can do practically all of the operations described above.  Such processors usually come complete with bowls, spatulas, blades and covers for extra convenience.
A few points to take note when selecting a food processor:
Capacity: Most processors range from 2 to 14 cups in capacity. In most kitchens, it will be useful to have two food processors, a small one for grinding or pureeing baby food (usually in small amounts) and a bigger one for chopping and slicing bigger portions. Commercial-grade processors usually have a capacity of up to 20 cups to cater to bigger volumes needed in professional food preparation.  Usually the stated capacity on product brochures or advertisements does not include liquid capacity. A 7-cup capacity can hold about 4 – 5 cups of liquid.
Power: A high-powered motor rating might look impressive as you get the impression that this reflects how easily the processor can process the food within a fraction of a minute. However, what really counts is how efficient the power gets transferred to the blade. If only 75% of the power is transmitted, the rating is of little value. For a peace of mind, choose a well-known brand which usually offers substantial power with strong couplings to give it maximum efficiency.
Speed: Most processors have at least one speed and a pulse function. More advanced features could include up to 4-speed variation controls which can take on heavy duty tasks. Pulse function is useful for a food processor as it allows you to instantly power up the machine and switch it off for tasks like mixing dough.
Cleaning and maintenance: For easy maintenance and convenience, check if your processors are dishwasher-safe. Sometimes, food might get stuck in the small crevices on top of the small slicer disc which will cause a stench after a few days. To be on the safe side, check reviews on the product's functions and ease of maintenance before purchasing it.
Over the years, home appliances, like other electronics, have also benefitted from improvements in technology. Cuisinart's Hot & Cold blender and HotmixPro are two technological marvels that can create magic in the kitchen.

Cuisinart Hot & Cold Blender
Ever imagined a blender that can make soup with a touch of a button? Cuisinart's Hot & Cold blender not just performs standard blending tasks with aplomb; it can cook soup from start to finish in 20 minutes! What makes this blender unique is its non-stick heater plate which doubles up as a sauté pan.
With a 1000W motor, this powerful blender with stainless steel blades can make perfect dips, purees, dressings, porridge, cocktails and crushed ice. So, making soups, sauces or icy cold smoothies can be done without you breaking a sweat. Enjoy the convenience of using only one machine that can chop, cook, and blend without the need for other appliances or having to do it manually. You can even add ingredients into the blender anytime during the cooking process and not worry that the results will not be impeccable. A recipe booklet is included with purchase.
Retail Price: $552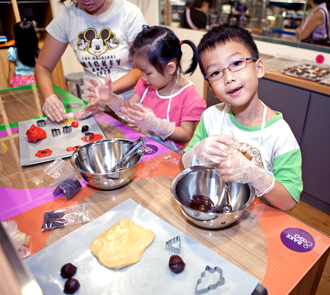 HotmixPro Gastro
The HotmixPro Gastro is a commercial-grade, innovative and multi-functional thermo blender designed to operate both as a mixer for blending and as a cutter for chopping. It can chop, puree, grate, grind, mill, mince, knead, liquidise, blend, mix, stir, emulsify, and cook any type of food. The temperature ranges from 25 to 190 degrees while still being able to mix at variable speeds. There is a special pulse function, allowing operation in intermittent mode at 10 different preset speeds. This marvel comes with a 1500W motor capable of speeds up to 12500rpm and has the additional function of 50 preset recipes, and a memory space which can save up to 300 recipes. A USB port allows you to connect to a PC to download recipes. There is also an interactive LCD screen that shows the user all functions like the ingredients and qualities for all recipes. For commercial use, the HotmixPro ensures consistent results even with different staff members attending to it.
Retail Price: $4085