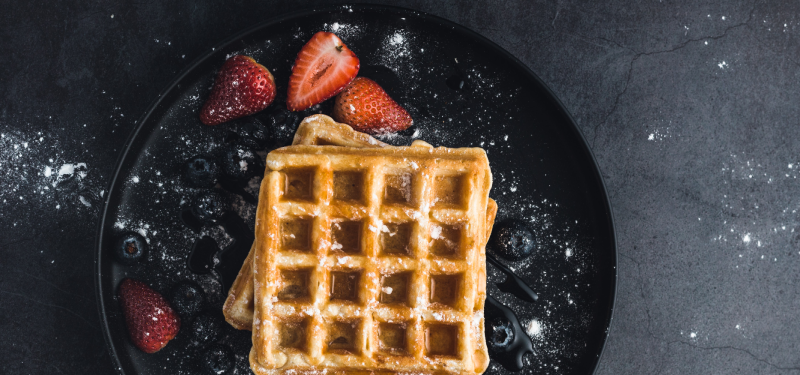 7 Unexpected Foods You Can Cook with a Waffle Maker
Celebrate International Waffle Day (25th Mar) with a twist! With a bit of imagination, a waffle maker can be much more! Here are 7 wacky ideas that you normally would not use a waffle maker for:
1. Maple-glazed Bacon
Slather some maple glaze over the bacon, stick it in the waffle iron to cook, and you're in business!
2. Scrambled Eggs
What goes better with bacon and waffles? Just whisk an egg or two in a bowl and pour it onto the waffle iron. Season generously and cover and cook for 1 to 3 minutes. Serve it with the maple glazed bacon and fluffy waffles – breakfast is served!
3. Cinnamon Rolls
Sticky, fluffy and undeniably addictive. Need we say more? Just grab a box of packaged cinnamon rolls and slap them on the waffle iron for 2.5 to 3 minutes. Be careful though, they become a bit too hard and crunchy if you cook it for too long.
4. Brownie Sundae
A classic favourite with a twist! Substitute the standard waffle batter for a brownie batter, cook it like how you would a regular and serve with generous scoops of your favourite ice cream! Pure bliss.
5. Hash Browns
Another delicious breakfast favourite. Slap the hash browns on the waffle iron and it will crisp up beautifully on both sides, while ensuring your potato stays fluffy and warm on the inside. Remember to squeeze the moisture out of the potatoes or else the hash browns will not crisp up properly and you'll end up with sad, soggy hash browns!
6. Margherita Pizza
Cooking a pizza in a waffle iron gives it an extra crispy ridged crust and tiny wells for the pizza sauce and melting cheese. Absolutely heavenly. Roll out your pizza dough, brush both sides with olive oil and slap it on the waffle iron. Cook for 4 to 6 minutes or until golden and cooked through. Spread the tomato sauce and mozzarella cheese, place the pizza back on the waffle iron and hold the top of the iron just over the pizza until the cheese melts. Garnish with basil leaves, a drizzle of olive oil and a sprinkle of parmesan cheese. Dig in!
7. Grilled Cheese Sandwiches
Grilled Cheese Sandwiches are the ultimate comfort food. Start by buttering 2 slices of bread on one side. Place one slice of bread butter-side down onto the waffle iron, place cheese on and then cover with the other slice of bread, butter-side up. Close the lid firmly and cook until golden.