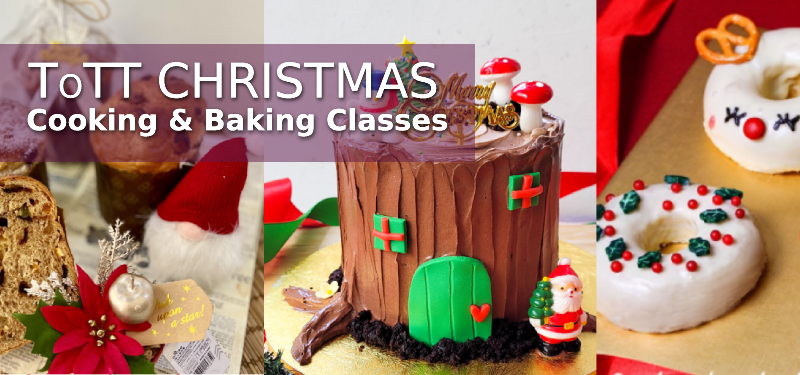 'Tis the season to be merry and bright and celebrate this magical time of year with ToTT Christmas Baking & Cooking classes. Whether you're looking for parent-child activities or even things to do over the weekend, start the holiday season with a bang and gather friends and family to bake and cook together. With a string of curated Christmas baking and cooking classes, there is something for everyone. Worried about not having the right tools to make them at home, you can simply get all our recommended kitchenware right after your class!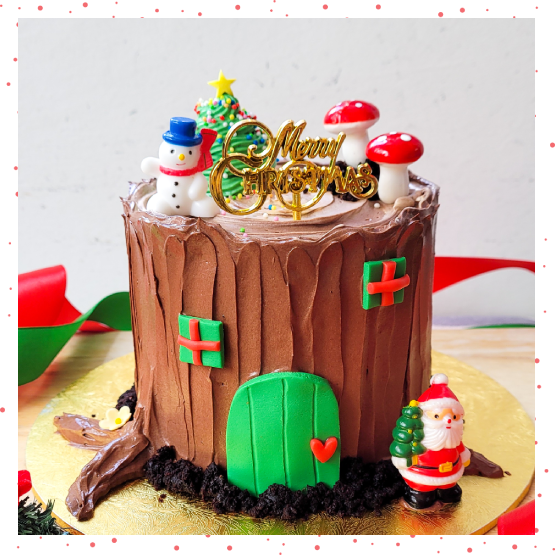 Take a walk through the enchanted woods with Mr Santa and Frosty the snowman.  
Together with Chef Claire, learn how to make layers of soft and moist sponge cake  frosted with a delicious and delicate vanilla bean or swiss chocolate buttercream frosting. Unleash your creativity and start decorating your very own Christmas Tree Stump Buttercream Cake. This show-stopper cake will definitely get your family and friends talking!
Recommended Products: Jamie Oliver Palette Knife,  Jamie Oliver Non-Stick Baking Tray, Nordic Ware Naturals 5 Tier Round Pan Cake Set
Love fondant decorating and fancy taking your cake decorating skills to the next level? Learn how to work with fondant to create your own exclusive Christmas cupcakes with Chef Claire. Psst, she will also be sharing  tips and tricks to give your cupcakes that cafe Instagram-worthy look and taste!
What's more! Bring home a set of cookie/ fondant cutters per pair for every sign up!
Recommended Products: Jamie Oliver Non-Stick Muffin Tin, Mastrad Pastry Bag Set
Donut worry, we've got your kids covered this festive season! Join Chef Philia as she shares how to prepare the dough, technique of colour making  and making these adorable holiday-themed donuts that are almost too cute to be eaten. Bond with your child and they will have truck loads of fun decorating them in a Christmas style all on their own all under 2 hours!
Recommended Products: Nordic Ware Non-Stick Doughnut Baking Pan, Nordic Ware Donut Bites Microwaveable Pan
Get ready to awe your family and friends this season. Skip those store bought presents and gift them your homemade fluffy Italian panettone and Caramelised Walnut Cinnamon Rolls. Learn the art of fermentation and the different skills to create these delicious savoury and sweet breads using traditional festive ingredients.
Recommended Product: Schneider Wooden Proofing Basket