Warm Nut Crusted Goat Cheese Crouton on Mesclun Salad
by Susanne Despature

A definite hit with cheese lovers! Goat cheese is known for having a delicious tanginess that is even more intense when warmed. A fresh Mesclun salad with garlic dressing completes the drool-worthy meal.
Cuisine : Mediterranean Course : Appetizer Skill Level : Novice
Prep : 20 mins Cook : 10 mins Ready in : 30 mins Serves : 6

---
INGREDIENTS:
200g Mixed Salad with Rocket, Asian Leaves, Lollo Rosso
100g Red and Yellow Cherry Tomatoes (sliced in half)
50g Small Black Olives (without pit)
2-3 sprigs of Spring Onion
1 Baguette (4-6 slices)
2 tbsp Olive Oil
300g Goat Cheese
30g Pumpkin Seeds (chopped)
40g Walnut (coarsely chopped)
30g Black and White Sesame Seeds
Olive Oil
Salt and Pepper
Balsamic Vinegar Cream
Garlic Dressing
6 tbsp Extra-Virgin Olive Oil
1-2 cloves of Garlic (peeled and chopped finely)
2 tbsp Lemon Juice
1 tbsp Balsamic Vinegar
1 tsp Honey
Salt and Pepper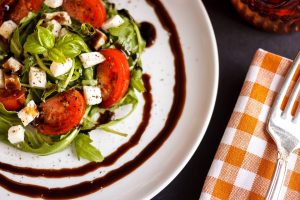 DIRECTIONS:
To make the dressing, combine all the ingredients in a medium bowl and whisk. Add some chopped spring onion – set aside
Wash the salad and toss it. Place the leaves, olives and tomatoes in the middle of plates.
Place the baguette slices on a tray and drizzle with a little oil. Place under a hot grill (broiler) and toast for 1 minute each side or until golden.
Shape goat's cheese into 4-6 discs, about 2 cm thick and the same diameter as baguette slice.
Toast walnut, pumpkin and white & black sesame seeds in a dry frying pan over medium heat – transfer to a bowl, add a little olive oil and mix well.
Coat goat's cheese discs with nut mixture and place one on each baguette slice. Arrange on a baking tray, then bake in a preheated oven (180°C) until warm and soft (3-4 min.), but still holding its shape. (You can also serve cold if you prefer!)
Pour the dressing over the salad and top with the grilled baguette and goat cheese. Use some balsamic vinegar cream to decorate your plate.