Valentine's Marshmallow Chocolate Bark is a simple, festive dessert that everyone loves! Made in minutes with just a few ingredients, these chocolate squares are perfect for Valentine's Day!
Cuisine: Western Course: Dessert
Skill Level: Novice
Prep: 10 mins Cook: 20 mins
Ready in: 30 min Serves: 4 serving
---
INGREDIENTS:
12oz bag semi-sweet chocolate chips
3 cups mini marshmallows
½ tbsp shortening (optional)
5-6 pieces of strawberries
20g walnuts
Valentine's sprinkles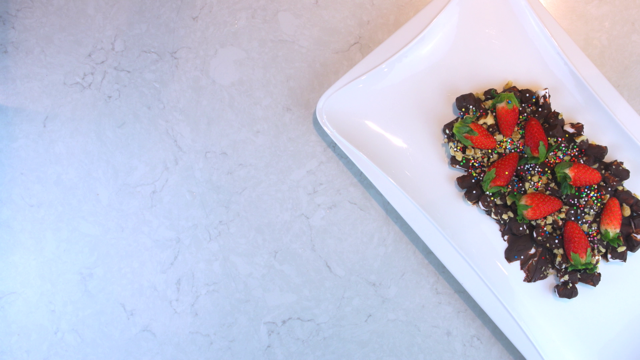 DIRECTIONS:
Pour semi-sweet chocolate chips in the top pan of a double boiler. Heat over hot but not boiling water, stirring constantly, until chocolate is fully melted.
Or you can microwave semi-sweet chocolate chips in a bowl, in 30 second increments, until melted, stirring each time until the chocolate is smooth.
Chop walnuts into smaller pieces.
Pour the melted chocolate over the marshmallows, spreading evenly with a spatula.
Add the chopped walnuts and shake on any sprinkles you'd like to decorate the bark with. Place strawberries into top of bark.
Freeze for at least 20-30 minutes.
Remove from the freezer and break it into pieces.
RECOMMENDED PRODUCTS: