Crispy pan-fried flat pies filled with juicy minced meat, potatoes and onions are incredibly delicious and very easy to make! A perfect snack or appetizer for the Lunar New Year!
Cuisine: Asian Course: Appetiser
Skill Level: Novice
Prep: 40 mins Cook: 20 mins
Ready in: 60 min Serves: 4 serving
---
INGREDIENTS:
Dough
All Purpose Flour 1cup
Salt 1/5tsp
Warm water as required
Oil 1tbsp
Fillings
Minced Meat 200g
Chilli Powder 1/2tsp
Salt 1/2tbsp
Black pepper 3/4tsp
Onion 1/2cup
Potatoes 1 Cup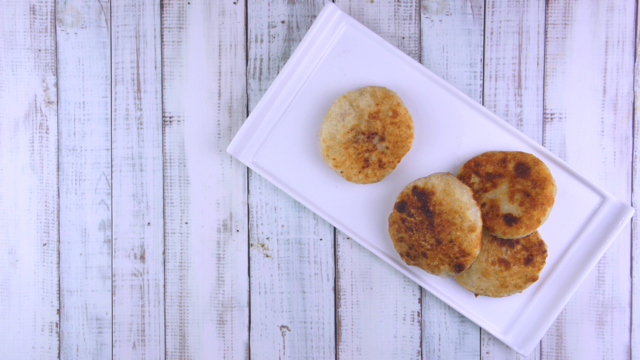 DIRECTIONS:
Mix flour, salt and warm water in a bowl. Knead it for 5 min.
Add oil and continue kneading until it soaks up all the oil.
Let dough mixture rest for 30 min.
Add oil in a pan and add minced meat, cook it for 8 min. Take it off from flame.
Add boiled potatoes to the meat followed by salt, black pepper, onion, chilli powder.
Mix thoroughly.
Use your hands to divide mixture into 5 balls.
Take out dough and divide dough into 5 parts.
Place 1 part filling ball into 1 part dough and cover the filling with the dough until it becomes a ball.
Push down the ball gently until it becomes a pie and fry in oil.
Fry each side for 5 min.