These Chocolate Coated Pretzels are perfect as a snack, party favour or even dessert this Christmas! They are easy to make, sweet, salty and crunchy all at once!
Cuisine : Baking Course : Dessert Skill Level : Novice
Prep : 5 mins Cook : 5 mins Ready in : 10 mins Serves : 2-4 Servings

---
INGREDIENTS:
Pretzels
1 cup White Chocolate Chips
1 tsp Vegetable Oil
Red Candy Melts or White Chocolate Chips Melt Dyed Red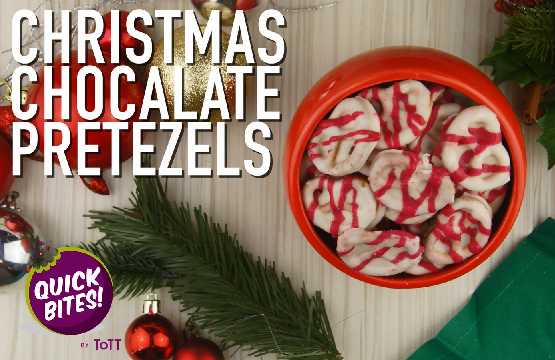 DIRECTIONS:
Put white chocolate chips into a microwaveable bowl. Add about a teaspoon of vegetable oil and stir it together with the white chocolate chips.
Microwave till fully melted.
Dip pretzels into melted white chocolate and lay it flat on a piece of baking paper to harden.
Once the chocolate has hardened, melt the red candy melts and microwave it till melted.
Pour melted red candy melts into a small ziploc bag. Snip off the bottom corner of the bag and drizzle the red candy over the hardened white chocolate. Allow it to harden.
Enjoy!
Store in a cool place in an airtight container for up to 2 days.