This recipe is an enhanced version of the mee pok sold everywhere! The tender pork loin is marinated in a mixture of bicarbonate of soda and water and then seasoned with wine, black pepper and seasoning sauce. The meat is then pan-fried and sliced. The noodles are blanched before serving all the components together.
Cuisine : Asian Course : Main Skill Level : Novice
Prep : 70 mins Cook : 20 mins Ready in : 90 mins Serves : 3

---
INGREDIENTS:
6 pieces of Pork Loin (80g each or 6 pieces of Pork Fillet)
½ tsp Bicarbonate Soda
2 tbsp Water
1 tbsp Ginger Juice
1 tbsp Maggi Seasoning Sauce
½ tsp Coarse Ground Black Pepper
1 tsp Shaoxing Wine
1 tbsp Corn Starch
Oil (for cooking)
Noodle Assembly
1 packet of Dried Mee Pok Noodles (about 100g each)
100ml Water
1 tsp Maggi Concentrated Chicken Stock
80g XO Sauce
Kai Lan or Taiwanese Baby Cabbage (Xiao Bai Cai), blanched
Chopped Spring Onions (for garnish)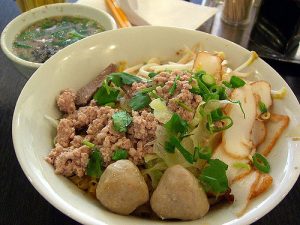 DIRECTIONS:
Mix bicarbonate of soda with 2tbsps water, use the mixture to marinate the pork loin for an hour. Add ginger juice, MAGGI Seasoning Sauce, black pepper and shaoxing wine to the meat. Toss evenly and stir in cornstarch.
Heat oil in frying pan, pan fry the pork chops till cook. Set aside and keep warm.
Combine water with Maggi Concentrated Chicken Stock. Bring to the boil and add the chili oil and XO Sauce.
Bring a large pot of water to boil. Blanch noodles for 30 seconds and transfer to XO sauce. Braised noodles for 2 minutes until cooked.
Divide noodles into 4 portions. Top up noodles with blanched Taiwanese cabbage and sliced pork chops. Garnish with spring onions and serve.