Slow Roasted Duck Breast With Sour Cherry-Ginger Compote & Voatsiperifery Pepper Mini Corn-Blinis
by Susanne Despature

As the name suggests, the duck should be roasted slowly to achieve perfect tenderness and taste. Complete this dish with the sour cherry-ginger compote and voatsiferifery pepper mini corn-blinis that complements the different elements of the dish. This recipe will be wonderful for your Sunday family bonding!
Cuisine : European Course : Main Skill Level : Novice
Prep : 80 mins Cook : 45 mins Ready in : 125 mins Serves : 4

---
INGREDIENTS:
Duck Breasts

3 Duck Breasts
2 tbsp Clarified Butter

Marinade

1 tbsp Honey
1 tbsp Light Soya Sauce
1 tsp Freshly Grated Young Ginger
Fleur de sel Salt, Black Pepper

Sour Cherry-Ginger Compote

250g Sour Cherries (frozen)
10g Clarified Butter
75g Brown Sugar
½ tsp Crushed Voatsiperifery Pepper*
1 tsp Julienned Young Ginger
1 tsp Cornstarch (diluted in 2 tbsp cold water)

Corn Blinis

125g Plain Flour
½ tsp Baking Powder (5g)
1 tbsp Soft Butter
2 Eggs
3 tbsp Macadamia Oil
100g Blanched Corn Kernels
2 Egg Whites
Clarified Butter
Salt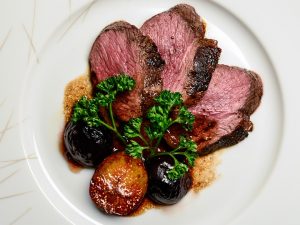 DIRECTIONS:
          For Duck
Preheat the oven to 80°C. Score the skin of the duck breasts with a sharp knife and put it into a baking tray. Combine ingredients for marinade and brush onto duck breast. Place them into a zipper storage bag and seal. Marinate for at least 1 hour (at room temperature) or more (in the fridge).

Remove duck breasts from bag, remove excessive marinade with kitchen towel.

Heat clarified butter in pan and sear duck breasts, skin side down first. Cook until skin is golden brown and crispy, then turn breast over and lightly sear other side. Place duck breast into a baking tray – skin side on top – and let it rest for 45 minutes or until the core temperature is at 62°C.

For Sour Cherry-Ginger Compote

In a small sauce pan, heat the butter, then add the frozen sour cherries, brown sugar, julienned ginger and Voatsiperifery pepper.

Once sour cherries start to form some juice, bring to a boil and simmer for 3-4 minutes, then take out sour cherries with a slotted spoon, drain and reserve in a bowl.

Bring sauce to a boil, add diluted corn starch and whisk while sauce thickens. Remove sauce from heat, season to taste with sugar & salt and pour over cherries.

Corn Blinis

In a bowl, combine flour, baking powder and soft butter. Mix eggs with milk and macadamia oil in a measuring jug, then add to bowl with flour by stirring continuously with a whisk, to prevent lumps to form. Add corn kernels.

Whip egg whites stiff with a hand mixer, adding a pinch of salt. Fold in carefully.

Heat clarified butter in a pan, add the blinis-mixture in small dots (3-4 cm) and bake the blinis on both sides until golden. Place on a dish in oven with duck breast.

Serve

Thinly slice each duck breast on a chopping board. Arrange on plates along with the sour cherry compote and some corn blinis. Add some fleur de sel on the duck breast.

*Tip: Voatsiperifery pepper is the rarest (1500 kg per year) and most extraordinary pepper. The plant (named 'Tsiperifery" in Malagasy) grows exclusively "wild" up to 20 meters in the tropical forest of Madagascar. Only the young shouts on the top produce fruits ("Voa"), handpicked by the villagers from the East Coast of the Island. Its refined earthy and woody taste is completed by citrus and flowery aromas bringing freshness to the palate. Particularly long tasting, it goes well with lamb and pork as well as fruits and chocolate.