Learn to make this flavourful yet simple Spaghetti alla Singapore with Prawns and Tobiko within 30 minutes!
Cuisine : Fusion Course : Main Skill Level : Novice
Prep : 0 mins Cook : 20 mins
Ready in : 20 mins Serves : 1 Servings
---
INGREDIENTS:
800g Dry Spaghetti
4 cloves of Garlic
1 tbsp Unsalted butter
Pinch of Chilli flakes / fresh red chilli
1 tsp Italian parsley
200ml Chicken stock
Pinch of Salt
Tobiko (flying fish roe) for garnish
3 pieces Tiger prawns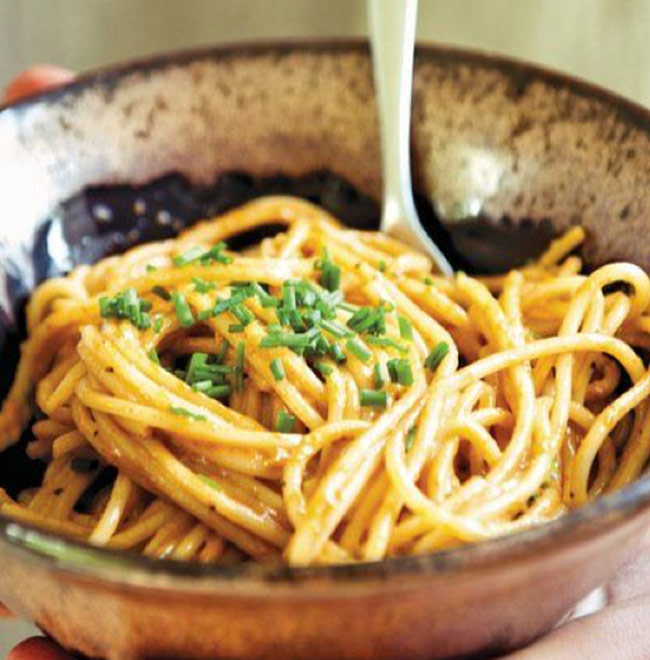 DIRECTIONS:
Prepare a pot of salted boiling water for the pasta.
Cook the pasta in the boiling water for 9 to 11 minutes.
Heat up a pan with olive oil and slow roast the chopped garlic.
When it start to turn golden brown, add in 1 tbsp of unsalted butter, chilli flakes, chopped parsley and deglaze with chicken stock and season with salt.
Once the pasta is cooked, transfer it to the pan and cook in the sauce for another 1 to 2 minutes.
Upon finishing, add in 1 tsp of unsalted butter and the prawns and flying fish roe.