Indulge in this airy Lemon & Lime Cream Cheese Roll with a Lemon Milk Sponge filled with zesty Lime Curd!
Cuisine : Baking Course : Dessert Skill Level : Novice
Prep : 40 mins Cook : 20 mins Ready in : 60 mins Serves : 6-8 Servings
---
INGREDIENTS
Lemon Milk Sponge

135g Egg Yolk
40g Caster Sugar
160g Egg White
70g Caster Sugar
70g Blue Jacket Cake Flour
40ml Unsalted Butter
40ml Butter
1 no Lemon Zest

Lime Curd

375g Fine Sugar
2 Green Lime Zest
1 Lemon Zest
6 Whole Eggs
240g Lime Juice
450g Unsalted Butter

Cream Cheese Filling

600g Cream Cheese
150g Icing Sugar
120g Whipping Cream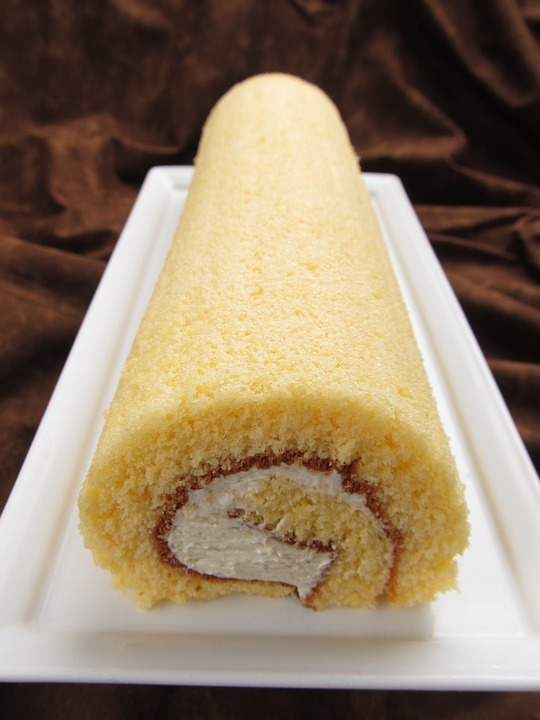 DIRECTIONS FOR LEMON MILK SPONGE
Pre-heat oven to 19-C.
Sift cake flour and green tea powder and put aside.
Warm up the butter and milk. Do Not Boil!
Whisk yolk and sugar till pale. Slowly add the siftly flour, followed by the warm milk and butter mixture.
In a clean mixing bowl, whisk egg white and gradually add the sugar till medium peak meringue is form.
Gently fold the meringue into the beaten egg yolk mixture.
Tip the batter into a greased baking tray and line with baking parchment.
Zest the lemon skin with a Microplane grater over the top.
Bake at 190C for approximately about 10-12 minutes.
DIRECTIONS FOR LEMON CURD
In a bowl whisk the whole eggs.
Sieve the egg and combine it with sugar.
In a pot, combine unsalted butter and lime juice and heat up to a gentle boil.
When mixture starts to boil, slowly whisk in the eggs and sugar mixture.
Whisk continuously until thicken.
Lastly add the zest.
Cool down over ice bath.
DIRECTIONS FOR CREAM CHEESE FILLING           
In a mixer bowl beat the cream cheese and icing sugar till smooth.
Add in the whipping cream and continue to beat it till light and fluffy.
Chill before use.