A quick and easy recipe that'll tantalize your taste buds! Whet up your guests' appetite with this Hot"N" Spicy Pork noodles that is perfect for your next gathering! Stir-fried with fresh ground pork and tossed in a mixture of soy sauce, balsamic vinegar and Sriracha sauce, be prepared for a sizzling and savoury dish perfect for any occasion!
Cuisine : Asian Course : Main Skill Level : Novice
Prep : 10 mins Cook : 20 mins Ready in : 30 mins  Serves : 2 servings
---
INGREDIENTS             
12 oz. lo mein or linguine noodles
2 tsp. oil
12 oz. ground pork
3 tbsp. lower-sodium soy sauce
2 tbsp. balsamic vinegar
2 tbsp. Sriracha sauce
2 bags (5 oz. each) baby spinach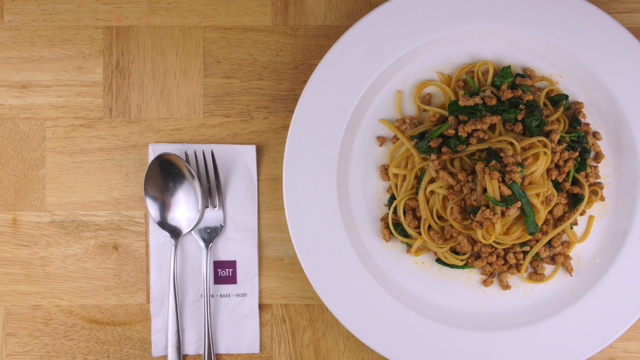 Directions:
Cook noodles as label directs in a pot
In a skillet, heat 2 teaspoon oil on medium-high until hot. Add ground pork; cook 5 to 7 minutes or until browned, breaking up with back of wooden spoon.
Whisk together soy sauce, balsamic vinegar and Sriracha sauce; add to skillet with pork, along with baby spinach. Cook for 2 minutes or until pork is cooked through and spinach has wilted, stirring occasionally.
Toss pork mixture with cooked noodles.
Mix well and serve.