There are few things more decadent than fresh plump scallops sprinkled with truffle caviar. Impress your guests with this dish at your next dinner party!
Cuisine : European Course : Appetizer Skill Level : Novice
Prep : 10 mins Cook : 10 mins Ready in : 20 mins Serves : 4

---
INGREDIENTS:
8 pcs Hokkaido scallop sashimi quality
80 gm Risotto
1 tin Truffle caviar
20 gm Mesclun
1 pc Lemon
20 ml Extra virgin oil
Pinch Truffle salt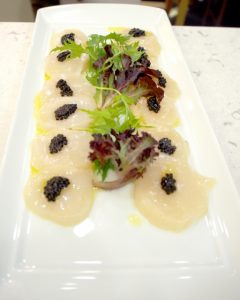 DIRECTIONS:
Bring a pot of water to boil and add in the risotto and cook till the rice is soft and creamy.
While using a hand blender to blend it, gradually add in extra olive oil too.
Leave aside and cool it down in an ice bath.
Slice the scallops diagonally and drizzle with extra virgin oil, lemon juice and pinch of truffle salt lightly onto the scallop.
Arrange the raw scallops onto the plate, spoon the creamy rice on it and arrange some salad on it. Garnish with truffle caviar.