Start your morning right with a plate of fluffy Blueberry Pancakes with a side of delicious and warm blueberry sauce!
Cuisine : Baking Course : Main Skill Level : Novice
Prep : 20 mins Cook : 5 mins Ready in : 25 mins Serves : 8 servings (16 pcs)

---
INGREDIENTS:
2 Eggs, separated
400 g Flour
11/4 teasp Baking Powder
1 tsp Baking Soda
4 tbsp Sugar
500 ml Buttermilk
40 g Melted Butter
1 tbsp Vanilla Extract
Zest of 1 Lemon
Zest of 1 Orange
150 g Blueberries
500 g Blueberries (For the Sauce)
250 g Sugar (For the Sauce)
2 tbsp Cornflour (For the Sauce)
1 tbsp Lemon Juice (For the Sauce)
250 ml Water (For the Sauce)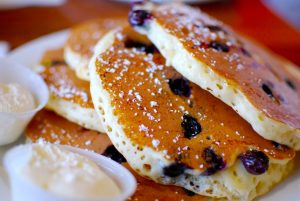 DIRECTIONS:
For the pancake mix all the dry ingredients together along with half of the sugar.
In another bowl mix all the wet ingredients except the egg whites.
Add it into the dry ingredients and make a thick batter.
Beat the egg whites until peaking and then beat in the rest of the sugar.
Fold the egg whites into the pancake batter.
Brush a pan with a little melted butter and drop ladleful's of the batter. Cook on medium high heat until the bottoms turn brown. Flip the pancakes and cook until browned.
Take the off the heat and serve them with the blueberry sauce and whipped cream.
Place 500 gm of blueberries, sugar and 200 ml of the water in a pan and bring the mixture to a boil.
Mix the cornflour with the rest if the water and stir it into the blueberries.
Allow the sauce to bubble and thicken.
Take it off the heat and add in the lemon juice.